The singer presented a new track and clip - "Heart in half"
About love in oriental style - Gulnaz Gadzhikurbanova @gulnaz_gadzhikurbanova presented a lyric composition called "A Heart in Half", the lyrics to which she wrote herself, and music - Shebnemi Suraee - a popular Tajik performer.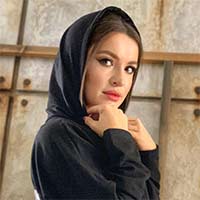 "I was inspired by the wonderful nature of the East," says Gulnaz, "the eastern beauties, the atmosphere, and indeed - this whole region is inspiring! It's not even necessary to be there to be imbued with its beauty, manifested in everything. "
The birth of the song entailed the creation of a video clip that tells the audience the romantic love story of an eastern beauty captured and her brave savior. The hot sands of the desert, chase, dancing and a happy ending were filmed in three days by director Murad Bakhmudov.
"The video was filmed in Sarykum, in the protected desert. It is one of the highest isolated sand massifs in Eurasia. Amazing in beauty, but not the easiest to shoot. In this area there are many snakes and lizards, and while we walk, barefoot, getting to the right locations for half an hour, I was often scared of all this living creature. But the filming process itself was interesting, "says the singer, who played the main role in the video.
Watch the video for the song Gulnaz Gadzhikurbanova "Heart in half"
Now Gulnaz Gadzhikurbanova is on a concert tour of Russian cities with Murad Gadzhikurbanov. After the tour, the artist will begin work on new material. So fans of her work will expect much more to come!
Listen and download the song Gulnaz Gadzhikurbanova "Heart in half"
Lyrics of Gulnaz Gadzhikurbanova "Heart in half"
Us in half
I'll give you my heart
Do not break only
Us in half
Heaven will give us
The sun to the horizon
I would follow you
For your dream
Fly to the ends of the earth
Only to breathe you
Believe and dream
Separate all nights and days
Ore ore ore ore
My favorite
My sun, my moon
Ore ore ore ore
My favorite
My soul is tearing you
Us in half
I'll give you my heart
Do not break only
Us in half
Heaven will give us
The sun to the horizon
Maybe a long time
Everything is a foregone conclusion
You are in my destiny forever
Thoughts about you
Give wings to me
How have I been waiting for you
Ore ore ore ore
My favorite
My sun, my moon
Ore ore ore ore
My favorite
My soul is tearing you
Us in half
I'll give you my heart
Do not break only
Us in half
Heaven will give us
The sun to the horizon
Us in half
I'll give you my heart
Do not break only
Us in half
Heaven will give us
The sun to the horizon
Us in half
I'll give you my heart
Us in half
Heaven will give us