The new author's composition was presented by Sergey Zeynalyan @sergey_zeynalyan - The artist wrote the song "Infection" during his forced self-isolation. But it is not dedicated to the disease, but to the girl whom the hero of the track calls so, loving.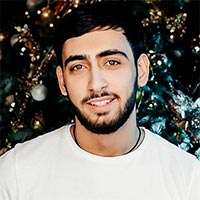 "The word" infection "was spinning on my tongue and somehow the phrase" the infection ate the mind at once "came to my mind. I recorded this in my notes and began to develop the topic. And so the song with a playful turn of words was born.
A video was also shot for this composition, the audience will see it on February 14, "said Sergey Zeynalyan.
The video will premiere on the artist's YouTube channel.
The artist also said that he was preparing another track for the release - "Gave Happiness". You will hear the song soon, but for now we offer you to get acquainted with the single "Infection".
Lyrics of Song Sergey Zeynalyan "Infection"
What should i do i don't know
She does not give rest
I'm getting used to it a lot
I don't know what the infection takes
How I don't want to think about it
Ate my mind 100 years ahead
Infection, at once ate the mind, and now I'm happy
The infection repeats its phrases, but it hurts me
Infection - I call her so tenderly, tenderly
This infection is also strong, I am getting used to it
Infection, at once ate the mind, and now I'm happy
The infection repeats its phrases, but it hurts me
Infection - I call her so tenderly, tenderly
This infection is also strong, I am getting used to it
She's so all so
She herself is all I am not me
After all, I lived and grief without knowing
Well, she's mine now
It is prickly it is prickly
I know for sure with her I will go crazy
Infection, at once ate the mind, and now I'm happy
The infection repeats its phrases, but it hurts me
Infection - I call her so tenderly, tenderly
This infection is also strong, I am getting used to it
Infection, at once ate the mind, and now I'm happy
The infection repeats its phrases, but it hurts me
Infection - I call her so tenderly, tenderly
This infection is also strong, I am getting used to it
Infection, at once ate the mind, and now I'm happy
The infection repeats its phrases, but it hurts me
Infection - I call her so tenderly, tenderly
This infection is also strong, I am getting used to it
Infection, at once ate the mind, and now I'm happy
The infection repeats its phrases, but it hurts me
Infection - I call her so tenderly, tenderly
This infection is also strong, I am getting used to it
Infection