"Sick with you" - Shamil Kasheshov presented a new project
Song about experiences in love - author's. As the artist said, the idea was born spontaneously: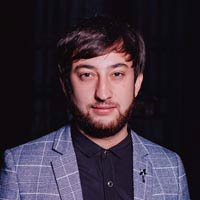 "Arranger Arthur Akavov threw me a beat. While I was listening to him, a motive and a small plot immediately appeared in my head, and the next day, on the way to the studio, I was adding words to a new song, - says Shamil, - I hope the listeners will like it, and they will catch the main idea - relationships need cherish. This is a composition about parting, and I would like to wish everyone that there are no deceptions and betrayals in your couples. So that you understand each other, hear. After all, there are so many bad things in the world, you should not waste time on finding out the relationship over trifles. "
A story where quarrels destroy feelings, the artist, together with director Zaurbek Dzhumadurdyev, was shown in a video for a new song. "Kristina Khudobasheva and my friend, brother and, by the way, an aspiring performer, played the couple, between whom there was a misunderstanding that led to the separation - Islam Aydarov... Here a story is played out that is familiar to many - a girl waits for her lover for a long time, worries, and he is late, but tries to rectify the situation. The girl's patience is at zero, neither flowers nor an apology helps, and young people quarrel completely. I wish there were as few moments like this in life. So take care of each other's feelings, make the right conclusions and enjoy your viewing! "
Lyrics of Shamil Kasheshov's song "You Are Sick"
I can feel your eyes in darkness again
I'm in the trash again and I'm going down again
And suddenly it became indifferent for you
But what happened to you I don't know
Well, why am I not loved by you?
You say that I broke your heart
I will collect from its fragments for you
Please, dear, you just believe only me
Sick of you alone
I will not hide my love
Just don't need revenge
We will definitely be together
Sick of you alone
I will not hide my love
Just don't need revenge
We will definitely be together
Sick of you alone
I will not hide my love
Just don't need revenge
We will definitely be together
Sick of you alone
I will not hide my love
Just don't need revenge
We will definitely be together
You opened my heart
And often talked about love
That you felt
But I lost your tracks
Now everything is different
Live, tell me, at ease
And you destroy to smithereens
And you hurt again
You opened my heart
And often talked about love
That you felt
But I lost your tracks
Now everything is different
Live, tell me, at ease
And you destroy to smithereens
And you hurt again
Sick of you alone
I will not hide my love
Just don't need revenge
We will definitely be together
Sick of you alone
I will not hide my love
Just don't need revenge
We will definitely be together
Sick of you alone
I will not hide my love
Just don't need revenge
We will definitely be together
Sick of you alone
I will not hide my love
Just don't need revenge
We will definitely be together