Shamil Kasheshov's new track appeared on storefronts today
The singer, continuing to be inspired by feminine charm, wrote and performed a song called "Queen", giving the single a beautiful half of his audience.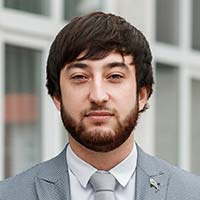 "This is a spring, dance song," says Shamil, "it came to my mind to write it when I thought that I had the tracks" Tsarina "," Princess ", which means that it was the turn of the" Queen "!
On the eve of the women's holiday on March 8, I would like to dedicate this composition to all the ladies and wish that they were always treated like queens! "
Listen to the news on digital platforms and on our website.
Listen and download the song of Shamil Kasheshov "Queen"
Lyrics of Shamil Kasheshov's "Queen"
I always dreamed of you
I went crazy when I saw again
I was looking for your features in others
But you still didn't see
I painted you in my dreams
You burst into them very boldly
I wrote poetry to you
'Cause you fell in love so skillfully
My queen are you now
I can not indifferent to you
I will not notice other losses
I will only reveal to you the soul
My queen are you now
I can not indifferent to you
I will not notice other losses
I will open my soul to you
I'll call you mine
In response, you will say that you love me so much
And your eyes I have no relatives
You will only be my beloved
And in life you are not sweeter
You are incomparable and beautiful
Please come to me soon
And always be so passionate
My queen are you now
I can not indifferent to you
I will not notice other losses
I will only reveal to you the soul
My queen are you now
I can not indifferent to you
I will not notice other losses
I will open my soul to you
My queen are you now
I can not indifferent to you
I will not notice other losses
I will only reveal to you the soul
My queen are you now
I can not indifferent to you
I will not notice other losses
I will open my soul to you