Popular performer Shamil Kasheshov @shamil_kasheshov presented a warm, sincere author's composition called "Mom".
The singer says that the first line of the song ("Again I went to a distant land ...") was born in his head when he was on the plane, on the way to the next concert ...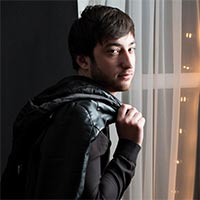 "I wrote this track in parts. At first I came up with a chorus motive, at that time I was still at home. And the first words of the song came to me already on board. Later, upon returning home, I completely completed it.
Of course, during the creation of the single, I was thinking about my mother. Her name is Fatima, and she is the most wonderful person whose description is not enough words! In her person I would like to devote this composition to all mothers and wish them never to know neither grief nor sadness from their children. I believe that every mother deserves the best attitude from her child. Therefore, I appeal to all children - love your mothers properly. Do not leave them, always be with them, because they, not to mention the rest, gave us this life! " - says Shamil.
Listen to the song "Mom" on digital platforms and on our website.
Listen and download Shamil Kasheshov's song "Mom"
Lyrics of Shamil Kasheshov's song "Mom"
Again I left for the land far
Far from my homeland
I go my way pretty long
And I want to return soon
So I want to hug my mother
So I hasten to kiss her
'Cause she alone heals wounds
And always forgive me for everything
Mom, you're a bright flower in my life
Your hands are not warm
and there are no my mother's relatives
Mom, I hurry to see you soon
Hug again and cuddle harder
To my mom
Here again on the road seeing off
Tells me a bon voyage
I know Mom that I'm wrong
And I hasten to tell you, I'm sorry
If suddenly I feel very bad
Only you can resist
Mom know! I love you very much
And I want to tell you again
Mom, you're a bright flower in my life
Your hands are not warm
and there are no my mother's relatives
Mom, I hurry to see you soon
Hug again and cuddle harder
To my mom
Mom, you are a flower in my life
Your hands are not warm
Mom, I hurry to see you soon
With my beloved mom
Mom, you're a bright flower in my life
Your hands are not warm
and there are no my mother's relatives
Mom, I hurry to see you soon
Hug again and cuddle harder
To my mom
To my mom