Saying goodbye to love is always difficult, but if someone played with feelings, then it's time to introduce new rules into this game ... Shamil Kasheshov @shamil_kasheshov presented today the composition "Turn the Game", written just about this.
We are sure that listeners will appreciate not only the theme of the song, but also the cool arrangement - Shami wrote a fashionable melody in the style of the XNUMXs, the most relevant today.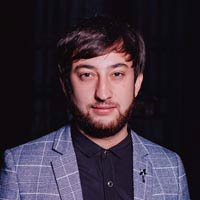 "It was with the music that it all started, - says the performer, - Shami is very talented, and great ideas are born in his head. For a long time I chose the words for this melody, wrote and tried different versions, in the end "Turn the Game" seemed to me more successful.
I hope the public will appreciate this new product. Enjoy listening to everyone! "
Lyrics of Shamil Kasheshov's song "Turn the Game Over"
I don't even want to know how you are there
You were so close to me
But not now
That love story wasn't about us
You gave the sunrises and I gave
I gave my heart and broke it
Now you're sorry
You will remember more about me
I'll flip the game
I will not know or remember
I won't remember your appearance anymore
I won't remember your name
Disappear in the darkness
I'll flip the game
Don't you dare disturb me again
And be careful with me
You have no forgiveness now
Disappear in the darkness
You left the wounds and what now
You thought so you
I could burn all my feelings
In the heart of the sword
I was able to warn myself
I don't even want to know how you are there
You were so close to me
But not now
That love story wasn't about us
I'll flip the game
I will not know or remember
I won't remember your appearance anymore
I won't remember your name
Disappear in the darkness
I'll flip the game
Don't you dare disturb me again
And be careful with me
You have no forgiveness now
Disappear in the darkness
I'll flip the game
Don't you dare disturb me again
And be careful with me
You have no forgiveness now
Disappear in the darkness
I'll flip the game
Don't you dare disturb me again
And be careful with me
You have no forgiveness now
Disappear in the darkness