Incendiary single about wayward beauty wrote for Shamilya Kasheshova @shamil_kasheshov poet and composer Umalat Magomedov. According to the artist, everything came together in the track: an intriguing text, flaming music, and a high-quality arrangement.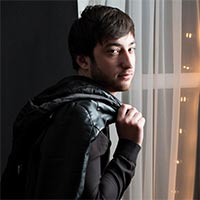 "Even when I first listened to the demo version, words and an energetic motive immediately caught on. I want to dance to this song! Therefore, I consider our project with Umalat successful and I believe that my listeners will appreciate it, "says Shamil.
What is noteworthy, the news does not end there, the artist is actively working on recording new compositions. Soon, fans of his work will get acquainted with the songs "Eyelashes", "Princess", "Dance of Fortune" and others. So stay tuned! In the meantime, we offer you to listen to the track "Queen of the Night", which from today is available on all digital platforms and on our website.
Listen and download the song of Shamil Kasheshov "Queen of the Night"
Lyrics of Shamil Kasheshov's "Queen of the Night"
The beeps go slowly
I hear a gentle voice
Bouquet of flowers ordered
And I'm waiting for an answer
I'm breaking my watch
And the arrows change the way
And again with your refusal
Quietly burning my heart
And you are the queen of the night
You don't want to be with me
And this dark night
I will steal you
And you are the queen of the night
Do not want to understand me
What is this dark night
I love you
Like you a little
Why so strict
you are building me barriers
In the shower leaving a mark
I make plans for the evening
'Cause I breathe you
And you inflict wounds
No cold word
And you are the queen of the night
You don't want to be with me
And this dark night
I will steal you
And you are the queen of the night
Do not want to understand me
What is this dark night
I love you
I'm used to failures
Not everything happens at once
Having fallen, I will rise again
And I will continue to live
You can break for a long time
Words are of so little use
I will say three words at the end
You be mine
And you are the queen of the night
You don't want to be with me
And this dark night
I will steal you
And you are the queen of the night
Do not want to understand me
What is this dark night
I love you
And you are the queen of the night
You don't want to be with me
And this dark night
I will steal you
And you are the queen of the night
Do not want to understand me
What is this dark night
I love you