The hero of the new author's track Shamilya Kasheshova @shamil_kasheshov by all the rules of the fairy-tale genre, you have to fight for love ...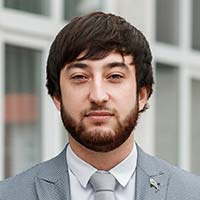 "This composition was born in my head all of a sudden," Shamil says, "thoughts flooded, a fantasy played out and a song appeared in which the most important thing was told through the images of fairy-tale characters.
I think the audience will also like the motive and arrangement. The composition turned out to be dynamic, danceable, exciting. "
You can listen to Shamil Kasheshov's track "Princess" on digital music services, as well as on our website.
Listen and download the song of Shamil Kasheshov "Princess"
Lyrics of Shamil Kasheshov's song "Princess"
I have obstacles with you
Not so scary
Cute princess
You wait for me
Cold anxiety
They took me away
How chained to a pillar
To your love
Though in the afternoon, even in the night
You are my princess
Enchanted by your beauty
What a witch feigned
Stole you
And made me suffer
Though in the afternoon, even in the night
You are my princess
Enchanted by your beauty
What a witch feigned
Stole you
And made me suffer
I love so much
Your gentle laugh
Cute girl come to me
Only if I knew
Dear you
How beautiful
You become
Though in the afternoon, even in the night
You are my princess
Enchanted by your beauty
What a witch feigned
Stole you
And made me suffer
Though in the afternoon, even in the night
You are my princess
Enchanted by your beauty
What a witch feigned
Stole you
And made me suffer
You are my princess
You are my princess
Though in the afternoon, even in the night
You are my princess
Enchanted by your beauty
What a witch feigned
Stole you
And made me suffer
Though in the afternoon, even in the night
You are my princess
Enchanted by your beauty
What a witch feigned
Stole you
And made me suffer