Famous Caucasian performer Rustam Nakhushev @ r.nahushev Presented today the author's track - "Sweet Poison".
"I'm like a damned thief, I love your eyes like freedom ...", the artist sings in a new song. Rustam, in his words, was inspired by the support of the public, which he felt on his first recitalheld in November last year in Nalchik.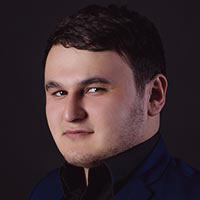 "When people meet you and your work so cordially, I want to share my thoughts with them even more. After the event, I thought about what else I could have told the audience, and, based on emotions I had once experienced, based on my memories and experience, I described a story that worried my heart.
If the audience likes the song, I'll probably shoot a video for it. In the meantime, my team and I are working on new tracks, there will be a lot more of them, "the artist shared.
Listen to the single "Sweet Poison" by Rustam Nakhushev on our website.
Listen and download Rustam Nakhushev's song "Sweet Poison"
Lyrics of Rustam Nakhushev's "Sweet Poison"
Black is your dress
Heart wants to stay again
So beautiful that I want to give up.
And captive is your soul
And yelling to me is not yours
So why do I love your eyes
And captive is your soul
You scream to me not yours
So why do I love your eyes
Sweet poison on your lips
Burning my soul
Is it my fault
That love insidiously strangles
Spiked Love
Waiting again like a rose in water
I'm like a damn thief
I love your eyes like freedom
How can I be if happiness
Only in your native arms
Again night I will share with another
Fate cuts again to pieces
And the feelings that burn in power
Lovely eyes that burn the heart again
Fate cuts again to pieces
And the feelings that burn in power
Lovely eyes that burn the heart again
Sweet poison on your lips
Burning my soul
Is it my fault
That love insidiously strangles
Spiked Love
Waiting again like a rose in water
I'm like a damn thief
I love your eyes like freedom
Sweet poison on your lips
Burning my soul
Is it my fault
That love insidiously strangles
Spiked Love
Waiting again like a rose in water
I'm like a damn thief
I love your eyes like freedom
Sweet poison on your lips
Burning my soul
Is it my fault
That love insidiously strangles
Spiked Love
Waiting again like a rose in water
I'm like a damn thief
I love your eyes like freedom