Akif Murtazaliev's track "Love Me" was released
According to the artist, the new song is only the beginning of a creative year that promises to be very fruitful ...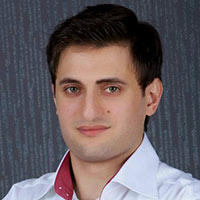 "The song" Love Me "was written by our dear friend from Tbilisi - Tengiz Radzhavi, better known as EL MORO," comments the performer, "he has been actively collaborating with the BRAND production center for many years, creating projects that always appeal to the Caucasian public.
This is a very light, spring song that instantly raises the mood, and this is its main value.
I promised fans that this year I will give them a lot of new singles, and now we are just actively working on the material - we record tracks, shoot videos.
On the day of the premiere, I want to thank my listeners for the fact that they treat my work with such trepidation and support me. I promise this year will be wonderful! "
You can already listen to Akif Murtazaliev's composition "Love Me" on our website and on all digital platforms.
Listen and download Akif Murtazaliev's song "Love Me"
Lyrics of Akif Murtazaliev's "Love Me"
I have been waiting for our meeting for so long
And believe others did not notice
All my dreams are only about you
You give me love and happiness
I'm ready for you
Never betray, know it
I don't need paradise without you
Hold tight and don't let go
Ai, ay, ay, ay, ay, ay, ay, ay, ay
All that was between us, do not forget
Ai, ay, ay, ay, ay, ay, ay, ay, ay
You love, love me and just don't run away
Lost i know your peace
and like a shadow I wander only after you
if you love just don't hide
you will be mine, so know
I'm ready for you
Never betray, know it
I don't need paradise without you
Hold tight and don't let go
Ai, ay, ay, ay, ay, ay, ay, ay, ay
All that was between us, do not forget
Ai, ay, ay, ay, ay, ay, ay, ay, ay
You love, love me and just don't run away
You know without you i can't
I confess again, I love you
You know without you i can't
And if you leave, believe me to die
Ai, ay, ay, ay, ay, ay, ay, ay, ay
All that was between us, do not forget
Ai, ay, ay, ay, ay, ay, ay, ay, ay
You love, love me and just don't run away
Ai, ay, ay, ay, ay, ay, ay, ay, ay
All that was between us, do not forget
Ai, ay, ay, ay, ay, ay, ay, ay, ay
You love, love me and just don't run away