The digital world is changing, and the Zvuk-M publishing house is changing with it. How to meet modern challenges and trends? About this and not only - the leading specialist of the marketing department of the music publishing house Daria Aganina
Analysts brand analytics the other day we studied the audience and content in social networks and instant messengers. The company used information for October 2022, comparing it with data for the same period in 2021.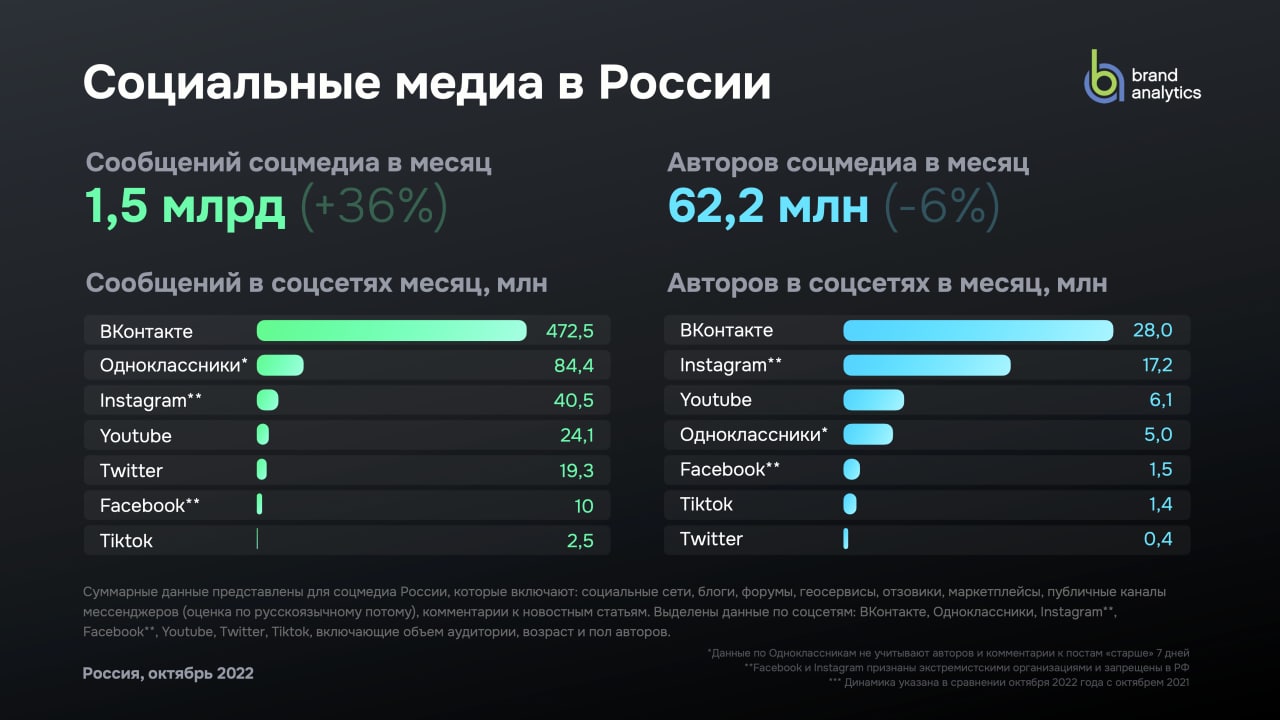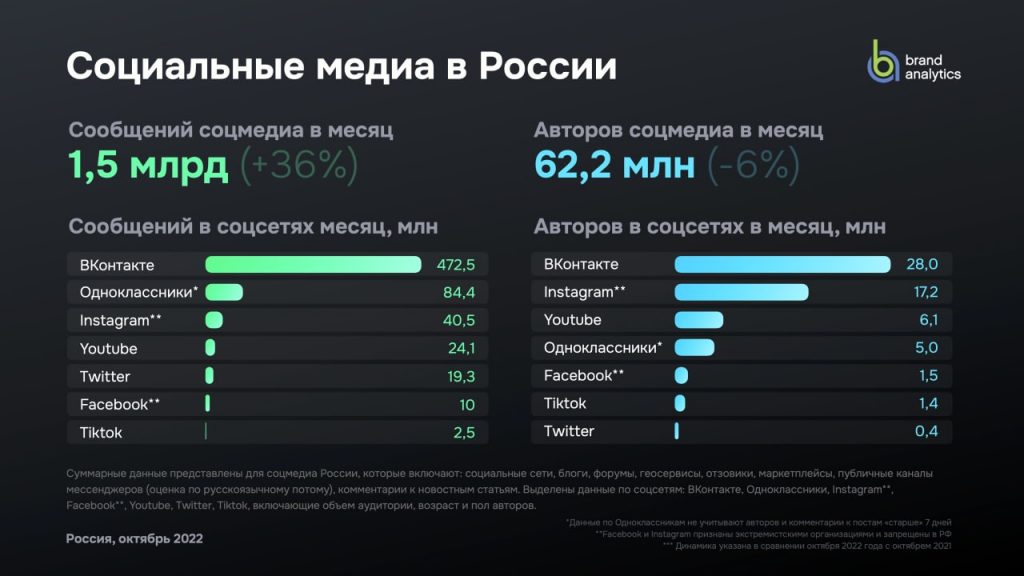 Main conclusions:
Rapid growth in content. The number of authors after blocking foreign social networks decreased by 6%, but their activity increased by 36%.
Growth leaders are VKontakte and Telegram. VKontakte is the No. 1 social network in Russia in terms of the number of authors and the volume of published content. Telegram shows record relative growth rates in the Russian-language media field.
Platform specialization is preserved. For example, VKontakte is growing as a universal platform for everything, Telegram is accumulating a news agenda, and YouTube remains the main platform for video bloggers.
Development towards copyright platforms. VKontakte, Telegram and Odnoklassniki will continue to grow due to the realization of expectations from users, bloggers and businesses.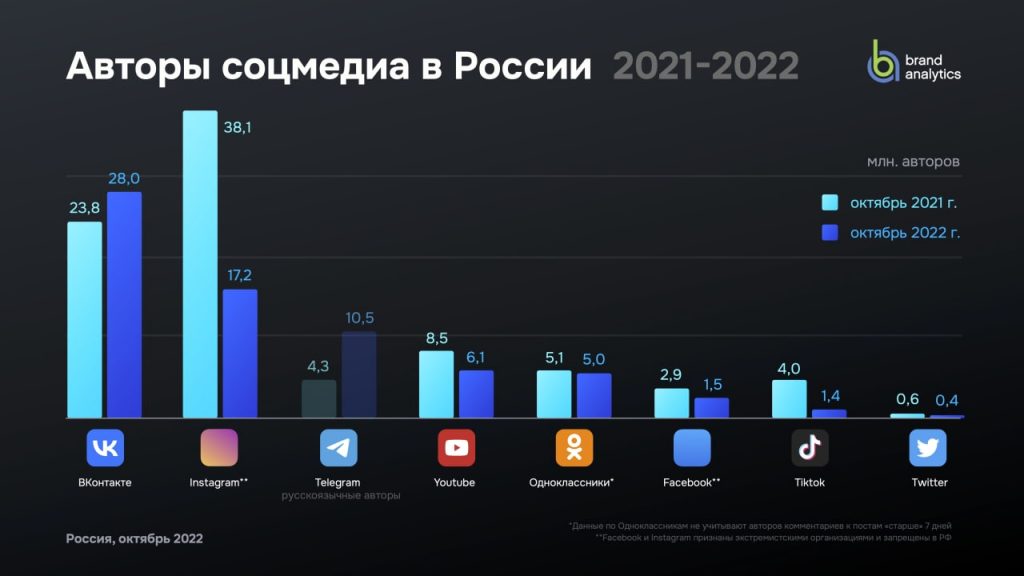 More than 30000 new songs are released every day on the planet. How to make sure that the tracks of Caucasian artists are noticed in this variety?
Analysts' conclusions are closely monitored by specialists from the marketing department of the music publishing house Zvuk-M. How the Zvuk-M artists are progressing online, says Daria Aganina, the division's leading specialist.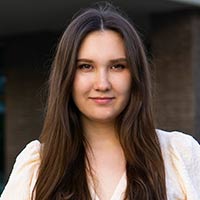 "Every day, more than 200 new songs are published on the Internet sites - on its main music stores, and there are more than 30000 of them. Think about this number. In this variety and abundance of new products, how can you make sure that the tracks of Caucasian artists are noticed? Behind each premiere there is a huge work of the performer and his team, financial costs, creative torment. The task of the publishing house is to make sure that the artist is noticed by the audience, so that his work gains fame and returns. Therefore, we are leading the premiere from beginning to end. Both parties are financially interested in this. And in the end it is the performer who wins.
As part of the work to increase sales of publishing products, which are predicted to be commercially successful, we are carrying out comprehensive work to promote them in social media. This is the development of the release promotion strategy itself, analysis of the target audience, subsequent preparation of a media plan and approval of the content plan. During the placement of materials, the result is analyzed, network content is optimized, and, if necessary, an advertising campaign is carried out.
Sometimes commercial success is expected (based on the artist's starting popularity data) but not immediately achieved. Why? By all indications, the track should "shoot", but no - the audience does not react as we would like. We begin to understand, we solve the issue by promoting the track through SMM channels. Or, on the contrary, a novice artist, he has a premiere - the composition starts moderately, but time passes - with the support of promotion channels, we get a new hit. And the singer wakes up as a star. There are many such cases.
2022 has taught us that you can't keep all your eggs in one basket. Yes, this aphorism can be used in SMM as well.
The promotion of the artist of the music publishing house "Zvuk-M" stands on three pillars:
SMM - promotion in social networks
Marketing - strategy, research, management
PR - image, reputation, image
"Zvuk-M" as a holding is more than eighteen million subscribers in the network
The net assets of the label, related directly to the head office of Zvuk-M, in social networks today are more than three million subscribers. Sublabels affiliated with the publishing house and partners under management, such as Music of the South, Chanson of the South, Kavkaz Music TV and others, collectively add another five and a half million to this figure. The pool of accounts of authors and performers who have contracts with Zvuk-M and work on the same agenda with it increases this number by at least ten million. Thus, even according to rough estimates, the team of subscribers of the music holding is at least eighteen million accounts.
Therefore, to one degree or another, all our artists receive support. There are no exceptions. One of the points of our strategy for maintaining social networks of artists is the presence and development of all platforms. Now in a changed world, we are adapting to new conditions, we understand how to manage and promote social networks.
VKontakte has traditionally been considered the most popular social network in Russia, and now it has only strengthened its position. The platform is rapidly developing and adjusts the functionality to the needs of the audience: VK Clips, stories, VK Mini Apps, various widgets, and so on.
Odnoklassniki has always been popular among established audiences. Odnoklassniki has enough services to interact with her: branded stickers, gifts, stories, and other tools.
Most of the Russians left for Telegram. In channels, you can create a special connection with the audience, as it is possible to communicate with listeners in a close connection, as if you are communicating with everyone in private messages.
You can choose any format of interaction: text, voice messages, video messages. And of course, there are familiar functions here - the publication of photo and video content.
Video hosting sites such as YouTube and its Russian alternatives Yandex.Zen and RUTUBE are primarily suitable for artists who are ready to upload video content on an ongoing basis. The advantage of the last two is the ability to monetize your content.
"Yappy" - can replace Tik-Tok, it is a young social network for creating short videos. How successful - time will tell.
How artist content is progressing
Before releasing a release and launching an advertising campaign, you need to prepare a landing page. As a rule, this role is played by the accounts of artists in social networks. In addition, the company's leading pool of performers has promo pages on the publisher's official website.
Of course, the information should be interesting, unique and engaging. This is greatly assisted by a plan developed weeks in advance, which makes it possible to analyze what content needs to be produced, what headings to add.
Also, before each release, a media plan is drawn up, it covers the issues of warming up the audience for the release, helps to plan the necessary release activities, as well as post-premiere work.
In conclusion, I want to note that in today's rapidly changing world, it is important for us to maintain leadership in the South of Russia, to make our artists recognizable far beyond the Caucasus, to bring our performers to the level of federal media platforms. The Zvuk-M team will do everything possible for this, we are sure of success."
Accounts of Zvuk-M artists in VK with the largest number of subscribers (data as of November 2022)