Soso Hayrapetyan presented his listeners with a new dynamic composition for a romantic mood
The artist wrote a song called "Knock-knock" in creative tandem with Arthur Sargsyan.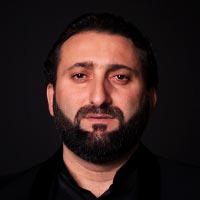 "When you meet love, your heart begins to beat louder and faster," says the performer, "Arthur developed this idea in poetry, and I wrote suitable music and made an arrangement. The result is a kind, spring composition about feelings that cannot be hidden. This story is familiar and close to each of the listeners, I am sure. And I want to say to everyone: love and appreciate each other! In any situation, listen to your heart, and let everything in life be like in a song! "
The single "Knock-knock" is already available on digital music venues and on our website.
Lyrics of Soso Hayrapetyan "Knock-knock"
You appeared from behind the clouds
Like the sun's brightest ray
I was speechless in a moment
All shone from your eyes
My heart is knock knock
Like a hurricane around
We will be together with you
You are mine and I am yours
My heart is knock knock
Like a hurricane around
We will be together with you
You are mine and I am yours
When you are not with me
It hurts me right away, where to find the answer, why
Well, when it's so easy with me
I'll take you far away with me
My heart is knock knock
Like a hurricane around
We will be together with you
You are mine and I am yours
My heart is knock knock
Like a hurricane around
We will be together with you
You are mine and I am yours
My heart is knock knock
Like a hurricane around
We will be together with you
You are mine and I am yours
My heart is knock knock
Like a hurricane around
We will be together with you
You are mine and I am yours
My heart is knock knock
Like a hurricane around
We will be together with you
You are mine and I am yours
My heart is knock knock
Like a hurricane around
We will be together with you
You are mine and I am yours