The duet single of Soso Hayrapetyan and Vardan Urumyan - "Hayastan" ("Armenia") was released on digital platforms
The patriotic song in Armenian was written by Soso himself: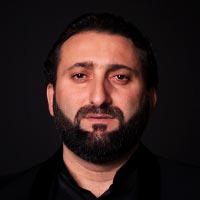 "Vardan and I have been friends for several years, we perform a lot together, and wherever we are, we always miss our homeland," says the artist, "therefore, we decided to sing this song about Armenia - Hayastan, as the Armenians call it, together.
In it - admiration for the beauty of the Republic, the wish that the sun always shines over it, and that peace and abundance reigned inside. After all, this is our home, our Motherland!
We hope that the composition will resonate in the hearts of the public. We wish her love and happiness. Listen to fun, quality music. All a good, positive, good life! "
Lyrics of Soso Hayrapetyan and Vardan Urumyan "Hayastan"
Surb hox es patmakan jrert anmahakan
Voxj hayeri bnorran el chka qez nman
Inchqan el tshnamin vayragutyunner ani
Canot e hay azgin hay azgi canr baskin
Darerov misht kangun
Hayastan galu enq tun
Tox amen aravot lini arevot
hayastan im kangun hayastan im tun
covic cov hayastan paycar apaga
Ararat ler @ vka et orn el kga
Tox amen aravot lini arevot
hayastan im kangun hayastan im tun
covic cov hayastan paycar apaga
Ararat ler @ vka et orn el kga
Chakatagir aqnardar varvecir shat dazan
Hayeris ashxarhov mek arecir bajan bajan
Bayc ete hark lini tshnamin tox imana
Hay @ vor votqi kangni djvar te na dimana
Darerov misht kangun
Hayastan galu enq tun
Tox amen aravot lini arevot
hayastan im kangun hayastan im tun
covic cov hayastan paycar apaga
Ararat ler @ vka et orn el kga
Tox amen aravot lini arevot
hayastan im kangun hayastan im tun
covic cov hayastan paycar apaga
Ararat ler @ vka et orn el kga
Tox amen aravot lini arevot
hayastan im kangun hayastan im tun
covic cov hayastan paycar apaga
Ararat ler @ vka et orn el kga
Tox amen aravot lini arevot
hayastan im kangun hayastan im tun
covic cov hayastan paycar apaga
Ararat ler @ vka et orn el kga