Meet the musical novelty from Soso Hayrapetyan! The author's composition of the artist - "Karot" appeared on the digital showcases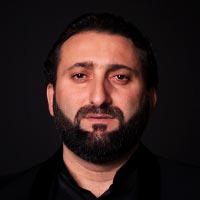 "The title of the song is translated from the Armenian language as" I miss you ", - says the performer, - I wrote it apart from my beloved girl. My soul was overwhelmed with longing, the pain of parting and the desire to see each other as soon as possible. Then the feelings raging in me poured into poetry and music.
Now this girl is my wife, and I am happy to dedicate this work to her.
I hope the listeners will like the new single, give them deep emotions and touch their hearts ".
Lyrics of Soso Hayrapetyan "Karot"
Hreshtak es luys es talis ichac erknqic
aynpes sirun kyanqs mtar gerva hayacqic
jpitov nor kyanq tvecir sirus ashxarhin
ayd pahic dardzar tiruhin im molor srtin
Bayc heru qeznic Ayrvum karotic
tanjvum e hogis Vor chkas koxqis
St. Ayrvum em es chem karox ayspes
uzum em qez grkel xenti pes
hast gitem du el henc indz pes
spasum es indz ayrvum xenti pes
Havata kgam taq hampyur ktam
u chem herana es voch mi angam
Amen angam erb lsum em dzaynt es hervic
amen angam artasvum e sirts karotic
uzum em qez amur grkel u ayrvel krqic
uzum em achqerit paylov vor xentacnes indz