Lyric composition "Mi Siro Patmutyun" in Armenian released
Soso Hayrapetyan @soso_hayrapetyan_official presents the lyrical composition "Mi Siro Patmutyun" - an author's song in Armenian, the name of which is translated as "The Story of One Love". And this story is real ...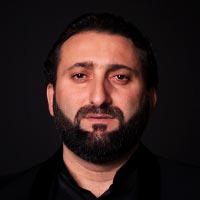 "The plot, and later the video, was based on an incident that happened with my friend," the performer shared, "once we got into a heart-to-heart conversation, and he told me how his beloved overnight destroyed their relationship by leaving for another. This incident impressed me so much that, emotionally imbued, I decided to describe it in the composition, and then show it in the video.
We filmed the video in Armavir for about six months. This is probably the longest project. That the weather interfered, then other nuances, but I am satisfied with the final result, and I really hope that the audience also likes it. "
Lyrics of Soso Hayrapetyan "Mi Siro Patmutyun"
Ashune ekel aygis
karotne patel hogis
chem karox aprel menak
spasum em qex sharunak
De asa te vorqan
antesem nerkan
ev aprem anmorac
xent sirov mer ancac
Ser @ mez ir girk @ charav
qez urish @ indznic tarav heru
sirox srtis huys em talis
bayc lav gitem vor et ches galu
Ser @ mez ir girk @ charav
qez urish @ indznic tarav heru
sirox srtis huys em talis
bayc lav gitem vor et ches galu
Chem karox im angin
hashtvel ayn mtqin
vor qez chem tesnelu
ev amur grkelu
Amen or amen varkyan
porcum em gtnel patasxan
te inchu inchpes ev inch patahec
vor sert srtumt marec
De asa te vorqan
antesem nerkan
ev aprem anmorac
xent sirov mer ancac
Ser @ mez ir girk @ charav
qez urish @ indznic tarav heru
sirox srtis huys em talis
bayc lav gitem vor et ches galu
Ser @ mez ir girk @ charav
qez urish @ indznic tarav heru
sirox srtis huys em talis
bayc lav gitem vor et ches galu
Chem karox im angin
hashtvel ayn mtqin
vor qez chem tesnelu
ev amur grkelu
De asa te vorqan
antesem nerkan
ev aprem anmorac
xent sirov mer ancac
Ser @ mez ir girk @ charav
qez urish @ indznic tarav heru
sirox srtis huys em talis
bayc lav gitem vor et ches galu
Ser @ mez ir girk @ charav
qez urish @ indznic tarav heru
sirox srtis huys em talis
bayc lav gitem vor et ches galu
Ser @ mez ir girk @ charav
qez urish @ indznic tarav heru
sirox srtis huys em talis
bayc lav gitem vor et ches galu