Whole month spent fans of the singer Lilit in the longing of a musical novelty from your favorite actress, and today the track "IM YAR" has finally come out! And also a video for this song, in which LILIT appeared in front of the audience in the role of Alexis, the ruler of the state, who is sent to another reality in search of a court musician ...
About the song "IM YAR"
In the repertoire of the singer, this is the first composition in the Old Armenian language. Incendiary and catchy tune presented in the processing of BIG BRO.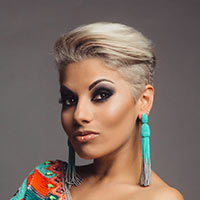 "This is a folk song with modern elements of music," comments LILIT, "an absolutely modern sound, to which you can hang out in clubs and just listen for pleasure. It creates a mood, gives a positive, and it should have been presented accordingly. That is why we decided to shoot a video with a beautiful fantastic plot, telling about the journey of heroes from ancient Armenia to our modern dimension ".
About IM YAR
The director of the clip "IM YAR" became Harut Tevosyan. Speaking about the work on the project, he emphasizes that in this video many surprises await the audience: starting with the costumes, where the folk echoes the art-n-bi and soul styles, ending with genres, including comedy, and fantasy, and historical shots.
In the story, the ruler of the state Alexia LILIT goes to another dimension to choose a court musician. She makes this journey not alone, but accompanied by a retinue, which helps her make the right choice. But on whom he fell - you will find out after watching.
The creators of the video are confident that the audience will appreciate the bright star cast of the actors. Master Sergio, who is always with Queen LILIT, played a superstar Sergey Zverev, also participated in the project: Mikhail Galustyan, Vartan Galstyan (Vardan Boroda), Roman Kagramanov (Kagraman), Saak Mkrtchyan, Edo Aper, Julakyan Koryun, TV presenter MUSICBOX Alina Yang , finalist of the TV project "The Voice" Michael Blaise (Michael Blayze), sound-producer of "Comedy Club" Arman Pahlevanyan (BIG BRO), Tiger educator Mikhail Zaretsky, Natalia Sergeenko, Victoria Lukashenko, Sarkis Harutyunyan and Valeria Lukashenko.