Presented a dance composition, with oriental notes, telling about an impregnable girl who lives in the dreams of the main character of the song, today Abacar Kurbanadamov @abakar_ru. To many fans of the artist, she will seem familiar, because this is a remake of one of the most popular tracks of Abakar. The singer was helped to adapt the single into Russian by the author of the words Sveta Gasanova and composer Magomedzapir Abdullaev.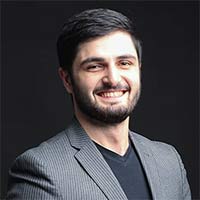 "Unapproachable" is a new version of the song "Eye to Eye" recorded in my native language, "the artist says," even those who don't know Darginsky, but I was often asked to perform it in Russian. Therefore, I gave the track a second life by releasing a remake. The same story is revealed here, so now the Russian-speaking audience will find out what exactly is sung in this single. "
The song "Unapproachable" can already be heard on digital music venues and on our website.
Listen and download Abakar Kurbanadamov's song "Unapproachable"
Lyrics of the song "Unapproachable" by Abakar Kurbanadamov
You pass by
And don't look at me
What shall I do with you?
Unapproachable mine
You live in my dreams
Like a distant star
Like a bird to heaven
Fly away from me
Be with me be with me
Be with me forever
You are the only one for me
With all my heart darling
Unapproachable mine
I'm losing your mind
You and I have one life
Long happy
Unapproachable mine
I'm losing your mind
You and I have one life
Long happy
Your lovely eyes
I can't forget
Know from this beauty
Hearts are breaking
Wait. Don't go away
Give me a smile
These love songs
About you only, about you
Be with me be with me
Be with me forever
You are the only one for me
With all my heart darling
Unapproachable mine
I'm losing your mind
You and I have one life
Long happy
Unapproachable mine
I'm losing your mind
You and I have one life
Long happy
Unapproachable mine
I'm losing your mind
You and I have one life
Long happy
Unapproachable mine
I'm losing your mind
You and I have one life
Long happy
Unapproachable mine
I'm losing your mind
You and I have one life
Long happy
Unapproachable mine
I'm losing your mind
You and I have one life
Long happy
Unapproachable mine
I'm losing your mind
You and I have one life
Long happy
Unapproachable mine
I'm losing your mind
You and I have one life
Long happy