Murat Gochiyaev released a new track
"Sharpshooter" is a composition about the values ​​of friendship and the cheapness of hypocrisy. The artist talked about how the single was written, and what the main idea is revealed in it: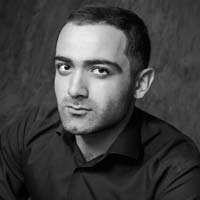 "The idea of ​​the song originated a long time ago, but I could not formulate and correctly convey the meaning to the audience. But one of the wonderful evenings, I came up with a chorus, started humming it, and later the words and music poured into the finished project, embodying my original idea.
This song is not about card cheaters, but about a circle of friends: friends, relatives, acquaintances. Everyone in life has people who were nearby not for friendship, but for profit, thinking only about themselves. This song is about them.
Here it is also sung that it is not necessary to conduct provocations, it is better to play according to your own rules (principles) and just wait until the others "reveal their cards" and "take off their masks".
Let us all be surrounded by only faithful people - without masks and lies, "says Murat Gochiyayev.
Now the singer is actively working on new material and, without changing his musical style, he plans to release another song in the chanson genre as well. At the same time, Murat always emphasizes that the most important thing for him is to convey to the audience the meaning of the composition.
The single "Shuler" is already available on all digital platforms and on our website.
Listen and download Murat Gochiyaev's song "Shuler"
Lyrics of Murat Gochiyaev "Shuler"
In "fate" we play like cards
Changing the trump suit
Familiar faces closed cards
Everyone stirs up meanness on the sly
And at my table - a sharper
Deck of Unopened Cards
Maybe this is the game
Doesn't know who didn't get excited
And at my table - a sharper
Deck of Unopened Cards
Maybe this is the game
Doesn't know who didn't get excited
Victory tastes only part of the excitement
Captivates crazy art games
There is only a smirk on dumb faces
But someone has an ace hidden
And at my table - a sharper
Deck of Unopened Cards
Maybe this is the game
Doesn't know who didn't get excited
And at my table - a sharper
Deck of Unopened Cards
Maybe this is the game
Doesn't know who didn't get excited
Well it remains to succumb
Now the stakes are high
It's time to say goodbye to the game of lies
Masks were revealed by the players
And at my table - a sharper
Deck of Unopened Cards
Maybe this is the game
Doesn't know who didn't get excited
And at my table - a sharper
Deck of Unopened Cards
Maybe this is the game
Doesn't know who didn't get excited