Arthur Khalatov presented a new song in the style of chanson
"Antique Clock" - a work on words by Artur Kencheshaov and music by Artur Besaev.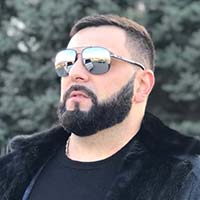 "The theme of love is inexhaustible," says Arthur Khalatov @artur_halatov, - there is always something to say, something to think about ... This composition is sung about the mercilessness of time to our feelings, about the fleetingness of happiness. The arrows move inexorably, shaping new stories and giving us life lessons that are very expensive ...
The song "Old Clock" is filled with deep meaning, and I am sure that the audience will feel and love it. Enjoy listening to everyone! "
The single is already available on digital platforms and on our website.
Lyrics of Artur Khalatov's song "Old Clock"
Antique clock on the train station square
Seconds were counted for us, but they took years
Love seemed to us some kind of perfect
But time all ours are broken forever
And the arrows on the wall don't remember us
They rush to new meetings of now others
Hearts in love do not watch
But the old clock looks into it
We lost our time
And the arrows didn't translate
My salvation and burden
Hours of Wounded Love
We lost our time
Where can we find him now
Hours of love, longing and faith
Now pounding in my chest
Antique clock on the train station square
As if our youth were taken somewhere
Now looking at them with sad eyes
We invented our own time zone with you
Let time on hand squeeze our wrists
Crazy love is over for us
I was your guest and fleeting happiness
Passers-by that asked you: What time is it
We lost our time
And the arrows didn't translate
My salvation and burden
Hours of Wounded Love
We lost our time
Where can we find him now
Hours of love, longing and faith
Now pounding in my chest
We lost our time
And the arrows didn't translate
My salvation and burden
Hours of Wounded Love
We lost our time
Where can we find him now
Hours of love, longing and faith
Now pounding in my chest
Hours of love, longing and faith
Now pounding in my chest