"Bitter taste" - Sultan Laguchev presented a new single and video for this song.
A dynamic song about parting was written by Karina Lakhova and Shamil Kasheshov.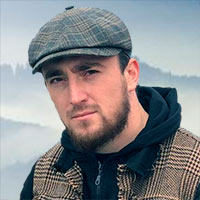 "I am sure that the actual, vital theme revealed in the track is familiar to many, - says the performer, - we tried to make the project more interesting by presenting it together with the video. Thanks to the cameraman Timur Chekhov for the work and the authors of the song, which I hope everyone will like.
There are several more compositions in the works, the new year promises to be fruitful. So don't miss the news! We are doing our best for you. "
Listen to the single "Bitter taste" on digital platforms and on our website.
Lyrics of Sultan Laguchev's song "Bitter taste"
Do not tell me anything
And give me a minute to think
I drink Scottish wine
I'm trying to confuse my thoughts
Don't tell me love
Which is not in your heart
And don't call me yours
You crossed my boundaries
And the bitter taste of your love
Killed me, now exhausted
And you let the poison go by the snake
Love poison, and I'm so glad
That it's all gone
Maybe
And there was nothing
Bye Bye
And never ask me to remember
And the bitter taste of your love
Killed me, now exhausted
And you let the poison go by the snake
Love poison, and I'm so glad
That it's all gone
Maybe
And there was nothing
Bye Bye
And never ask me to remember
Why is your love needed
When your words are empty
Why lie so much
I understood everything now from now on
You go, you go
I don't need such a fool
And forgive me for my words
It's your nature
And the bitter taste of your love
Killed me, now exhausted
And you let the poison go by the snake
Love poison, and I'm so glad
That it's all gone
Maybe
And there was nothing
Bye Bye
And never ask me to remember
And the bitter taste of your love
Killed me, now exhausted
And you let the poison go by the snake
Love poison, and I'm so glad
That it's all gone
Maybe
And there was nothing
Bye Bye
And never ask me to remember