The Russian singer and composer Sultan Lugachev, who hit the top of the music charts, spoke about his upcoming projects, and also shared his opinion that the main thing for him is the family
On the eve of the main character of the program "Nedud" became a popular and most viewed performer Sultan Laguchev. Live, he answered questions from fans, performed his hit "Bitter taste"and also spoke about the projects he is currently working on.
According to the singer, the song "Love is Trouble" is expected to be released. Despite the deceptive name, it is not about sadness, but, on the contrary, cheerful and humorous. Also, the artist has prepared a few more tracks, but so far he keeps them a secret.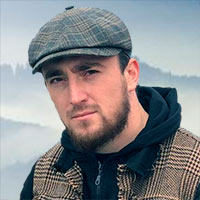 "I got what I was striving for - the opportunity to realize myself as a creative person"- said Laguchev.
The singer also touched upon the issues of his personal life, for example, he shared his opinion on how he sees his future companion: "My wife should be decent, with a sense of conscience, know her place, not go beyond, respect elders, and, accordingly, I should be the same, be a decent family man in everything, provide for my family, solve all problems, be a breadwinner. And the wife should be the keeper of the hearth!
If you want to know who Sultan would like to sing with and how he feels about tik-tokers, watch the video on the Novoe Radio YouTube channel.