Performers of the sensational hit "At the disco!" Sultan Uragan @sultan_uragan и Murat Thagalegov @murat__thagalegov Prepare a surprise for fans - a new joint song!
The text "Call" was written by Sultan Hajiroko together with the famous musician Ruslan Reno, who is the author of many tracks for Russian pop stars.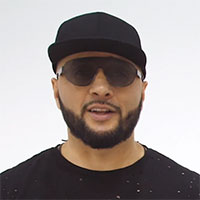 "Oddly enough, this is our first duet with Murat after the release of the song" To the disco! ", - comments Sultan, - taking into account the fact that its success should have long prompted us to make some kind of continuation. But, nevertheless, a new composition was born just now. The style and manner in which Murat appears in this project is new to him. At first he was wary of this, but eventually fell in love with this song. It came out with a modern beat, 808 bass and a bit of hooliganism.
I really hope that the song will appeal to people. We also shot a video for her, which, I hope, will also respond in the hearts of listeners and viewers! "
The song "Call" will be performed at a solo concert of the Sultan Uragan group on October 16 in Moscow, on the Izvestia Hall stage, but for now, we offer to listen to an excerpt from the track that the Sultan shared with subscribers on the social network ...
Посмотреть эту публикацию в Instagram