On October 29, 2020, in Pyatigorsk, the results were summed up and the winners of the "Prize of the Year 2020" competition of the USSR Radio Holding, held with the support of the Pyatigorsk Chamber of Commerce and Industry, were awarded.
More than thirty nominees from various fields of entrepreneurial activity took part in the competition, the aim of which was to popularize and contribute to the promotion of manufacturers in the market of Caucasian Mineral Waters and the Stavropol Territory.
The best of the participants were identified by voting, which took place on the official page of the USSR Radioholding in Instragram during the week.
Among the legal entities and individual entrepreneurs KMV, who participated in the competition, there was also an artist "Zvuk-M" - Tamara Garibova, known as a singer and model, the founder of the TAMARA GARIBOVA brand. On this day, a new victory awaited her - Tamara won in the nomination "Fashion Singer" and was awarded a diploma and a commemorative prize.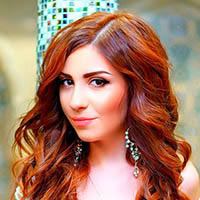 "I have an unforgettable experience! First of all, I thank God for everything that happens to me! I thank my relatives and friends for their support, everyone who voted for me, and, of course, I thank the Radio Holding of the USSR, the Pyatigorsk Chamber of Commerce and Industry for this award and for the appreciation of my work! " - says the artist.
Congratulations to Tamara Garibova on her victory! Well, at the moment she is working on new material and promises that soon fans will hear fresh songs and see new videos.