On June 1, on Children's Day, the Russian Cultural Foundation, the project "Today are children, tomorrow is the people", the National Library of the Udmurt Republic and the Council for Children's Books of Russia launched a large-scale project "Fairy Tale. Hurry to find out what is native. "
Thanks to him, children around the world get to know the rich folklore heritage of different countries and peoples through fairy tales. Outstanding artists and politicians, writers, artists and teachers read them to children every Thursday at 19.00. You can watch and listen on the website www.svmihalkov.ru and on the YouTube channel of the Russian Cultural Foundation.
We are pleased to announce that along with such stars as theater and film actress Olga Lomonosova, Russian politician, boxer Nikolai Valuev, theater and film actress Lyubov Tolkalina, Honored Artist of Russia Euclid Kurdzidis, Honored Artist of the Russian Federation Andrei Mezhulis and others, will also read a fairy tale and Tamara Garibova, artist of the music publishing house "Zvuk-M".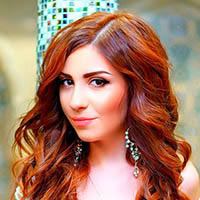 "During a working conversation with the project manager Olga Ivanovna Butskaya, she told me about him and offered to participate. Of course, I gladly agreed, - says Tamara, - it's a great idea - to educate children through literary works. For reading, I chose the Russian folk tale "The Fox and the Crane", and I designed the performance in New Year's style, as the holiday is approaching, everyone wants magic and this is the time for fairy tales!
I hope the kids and their parents enjoy it. I am looking forward to meeting the audience! "
You can listen to a fairy tale from Tamara Garibova today - starting at 19.00! You can see it on our website: