Tamara Garibova's song "Fly High" released
Composition "Fly High" performed by Tamara Garibova @tamara_garibova_official_page_ familiar to listeners of Hit FM radio stations and on Radio N. Well, from today the track has become available on all the largest digital music venues.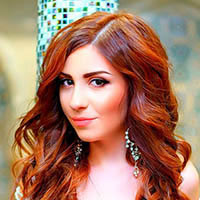 "This song for me is something new and interesting," the singer comments, "a different style, a fresh look. I really hope that listeners will appreciate the single, and it will take its rightful place in their playlists, as well as get into the rotation of many more radio stations! "
The track Tamara Garibova decided to present simultaneously with the clip. A romantic story filmed in Essentuki and in Prague by the authors of the video project Viktor Kozlenko @color_work and Elena Kozlenko @elena_color_work can also be viewed on our website.
Lyrics of Tamara Garibova's song "Fly High"
Your lips burned hard
It was so unbearable
Touching me with tears
Hands are bullets, I crumble ...
Picking me in pieces
You kill and resurrect
Again and again and so cruelly
Free, hard, you hurt
Difficult, reconciling with oneself
Love sought
All that we did not find
Was between us
Passion covered in a wave
Breathe right in time
We, we two
Fly high
Difficult, reconciling with oneself
Love sought
All that we did not find
Was between us
Passion covered in a wave
Breathe right in time
We, we two
Fly high
We lost each other again
Weasels didn't hold us back
Approaching again moving away
And clinging to others again
We bet on feelings
Phrases hit and so skillfully
We are all what we dreamed about
Put out the fire between us
Difficult, reconciling with oneself
Love sought
All that we did not find
Was between us
Passion covered in a wave
Breathe right in time
We, we two
Fly high
Difficult, reconciling with oneself
Love sought
All that we did not find
Was between us
Passion covered in a wave
Breathe right in time
We, we two
Fly high
Difficult, reconciling with oneself
Love sought
All that we did not find
Was between us
Passion covered in a wave
Breathe right in time
We, we two
Fly high
Difficult, reconciling with oneself
Love sought
All that we did not find
Was between us
Passion covered in a wave
Breathe right in time
We, we two
Fly high