Talented vocalists TemirKosh @temirkosh и Mariana Saralp @maryana_saralp_known to the general public and as former members of the show group "CK STYLE", presented today a lyrical novelty - the song "Between the Lines", as well as a clip for it.
The author of the song was Timur Kitov. After hearing the love story of the performers, he was so inspired that he literally 15 minutes wrote the words to this track.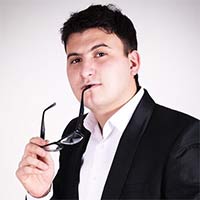 "During the year and a half of working with Timur, we created a lot of tracks, but we came especially to this song," says TemirKosh, "once we worked in the studio, and between the cases I told him our story with Maryana. About how we met, what we went through together and how we came to the conclusion that we are already husband and wife. And then an idea came up to write a song about it. Timur immediately created the text - as if briefly completely retelling this passage of our lives, and overnight an arrangement was made. So by the morning the song "Between the Lines" was born.
Having finished work on the track, the artists decided to release it along with the video and began to shoot the video. It was filmed in Nalchik. According to the director's idea, the characters of the video tell each other about love and rush to a fateful meeting.
"The video was created by a very talented person in his genre - Vasily Zaruba," Temirkosh shared, "we have a lot of joint plans with him. Each time we will actively try to surprise you with our creativity! Well, today we want to share a new project and we hope that "Between the Lines" will also be close to many, and will appeal to listeners and viewers! "
You can listen and download the song, as well as watch the new music video of the performers right now on our website!
Listen and download the song "Between the lines"
Watch the video "Between the lines"