The song "I Love You" was recorded a year ago. This is the author's track, which the artist dedicated to his wife.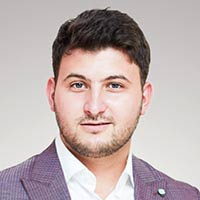 "I want to wish all listeners true and pure love! I hope my new song will appeal to many loving hearts. And to those who have not yet found their love, I wish you to meet her! " - says Temirkosh.
Listen to the news on digital platforms and on our website.
Lyrics for Temirkosh "I Love You"
You know i love you
You know i love you
And you too
And you and I are alike
Forgive me dear
I am often rude
I always swear with you
I'm definitely to blame
You know not from evil
These thoughts are hot
I will not allow myself
To make you not happy
I need you like water
Air, sun and moon
You are part of my world
Darkness is here without you
You know i love you
You know i love you
And you too
And you and I are alike
How can you not love
I want to live with you all my life
And you too with me
And you and I are alike
I miss
When you're near, I fly
When not near, I die
I can't live without you, you know
I miss
When you're near, I fly
When not near, I die
I can't live without you, you know
You know i love you
You know i love you
And you too
And you and I are alike
How can you not love
I want you to live my whole life
And you too with me
And you and I are alike
You know i love you
You know i love you
And you too