Yesterday, November 17, Andrey Malakhov's program "Hi, Andrey!" was recorded. with the participation of the famous Caucasian performer Temirkan Koshiev (Temirkosh). We are looking forward to its release on the Russia-1 channel
"We want to see you on the program "Hi, Andrey!" with the song "Taganka" - from a phone call with such a proposal, Temirkosh's acquaintance with the backstage of Russian television and personally with Andrey Malakhov began. Such offers are not rejected. Of course, he immediately got ready and flew.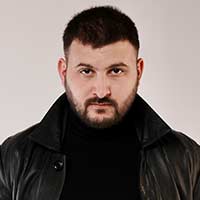 "The program, on the air of which I was invited, is dedicated to yard songs, its working title sounds like this - "Evening of yard songs". This term itself describes a rather powerful cultural layer with a long history, and I am very glad that my performance of the song "Taganka" interested television production. I think that in the Russia-1 studio they saw a video for this composition on the Zvuk-M channel - we released it in April 2022 - a very famous folk song, everyone knows it; so the team of Andrey Malakhov decided that my performance suits them.
During the filming of the program, a variety of questions were raised, I told how Taganka got into my repertoire in general: this is a story with the beginning many years ago - around 2002, my dad gave me a system with Karaoke, and it so happened that the first song, on which I came across was precisely "Taganka". And of course I sang it under Karaoke, in fact, it was generally the very first song in my life that I sang. And after that it became clear to everyone around that I intended to sing more and more. My parents and especially my father often asked me to perform it, it has become one of the small and valuable family traditions. Four years ago, my father passed away, and the video clip "Taganka" was born in memory of him.
In addition to Taganka, another composition will be aired - Alyonka. As well as a dialogue with Andrei Malakhov about life and work. Most of all, on the set, I was surprised by the incredibly chamber and cozy atmosphere, I didn't even think that it could be like that on television. This, of course, is the great merit of Andrei Malakhov. I hope that the transfer will not disappoint you!"