Jessie J released her first Christmas album
This Christmas Day is the fifth studio album by British singer Jesse J, released on October 26, 2018. Canadian David Foster (David Walter Foster is a Canadian musician, composer, songwriter and arranger, also known for producing such celebrities as Alice Cooper, Christina Aguilera, Toni Braxton and Andrea Bocelli) took part in the work on the disc.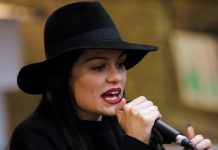 Jessie J (Jessie J; real name Jessica Ellen Cornish is a British singer and songwriter. Known in the world of show business since 2011, after ...
"This Christmas Day" was recorded two weeks after the "ROSE Tour" ("ROSE" is Jesse J.'s fourth studio album) in 2018, which took place in both Europe and America. According to Jessica, her decision to create "This Christmas Day" was very spontaneous, taken literally at the last minute, and working with the producers on the album was just "a dream."
Christmas is a favorite holiday
Here is what Jessica herself says: "I love Christmas music and, finally, I have the opportunity to record a Christmas album, I hope you enjoy the songs that your magical memories will leave you at my favorite time of the year."
The album "This Christmas Day" includes 10 classic Christmas songs, as well as one original composition - the track "This Christmas Day".
We listen!