Tina Korn's composition "Smoke" appeared on digital showcases
This bard song was loved by fans Tina Korn @korntina long ago, today they had the opportunity to listen to it at the largest music venues.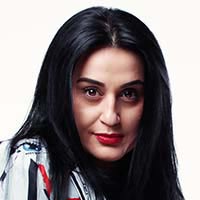 "This is one of the first compositions written by me. She is about 20 years old. Here are described the experiences of my acquaintances, whose feelings I, as a creative person, took over at that moment. And, inspired by someone else's story, she wrote a song about parting. "
As for new products, now the artist is working on fresh material:
"Basically, these are dance projects, and each song has its own story, but there will also be a couple of lyrical compositions about the personal," says Tina Korn.
Lyrics of Tina Korn's song "Smoke"
I will come to you ,
Just don't be afraid.
I will say hi
Sit down and take it easy
Lack of strength
To the past to leave
You asked me
But no answers can be found
Biting your lip, you squeeze your palm.
Oh, oh, oh, oh
You take the pack in your hands fire
Oh, oh, oh, oh
Light up a cigarette nervously
Will you turn on my cassette
You will hear my dear voice
The heart is yours again
Light up a cigarette nervously
Will you turn on my cassette
You will hear my dear voice
Your heart will breathe again
The lips will sing
As if you are with me
I call in my mind
Like someone is drowning
Well, for the last time
Tell all thoughts
You don't see us
And you burn letters
Biting your lip, you squeeze your palm.
Oh, oh, oh, oh
You take the pack in your hands fire
Oh, oh, oh, oh
Light up a cigarette nervously
Will you turn on my cassette
You will hear my dear voice
The heart is yours again
Light up a cigarette nervously
Will you turn on my cassette
You will hear my dear voice
Your heart will breathe again
Light up a cigarette nervously
Will you turn on my cassette
You will hear my dear voice
The heart is yours again
Light up a cigarette nervously
Will you turn on my cassette
You will hear my dear voice
Your heart will breathe again