Singer Tina Korn presented the song "Now and Here"
On the windows of digital stores there was a novelty from Tina Korn @korntina - composition "Now and Here".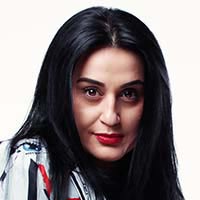 "This song was born after the sad events that happened in my life with my husband," says Tina, "seeing his condition, when he lowered his hands a little, I wrote a life-affirming text to the chorus, about not sitting upright, waiting for a miracle. We do everything ourselves. It is worth getting up and acting and living today, right now and here!
Olya German helped me in creating the verses, the music is mine.
The composition conveys emotions and our state of affairs with Vlad today. So when I sing it, I myself am inspired and understand - this is it: everything is in front of you, just take it without any doubts! "
Lyrics of Tina Korn's song "Now and Here"
Everything is so strange, we scattered across countries
What about the goals? We dreamed, we wanted
Tell me why all of a sudden, we divide the sky
So trite, my wings are numb
Look up. There is our success
Look down slippery cornice
Together we will take off, we will transform
Our dispute with you into a sensation
We will fall with you from heaven
Let's not wait for miracles anymore
We will conquer this whole world
Right now and here
We will fall with you from heaven
Let's not wait for miracles anymore
We will conquer this whole world
Right now and here
Right now and here
It doesn't matter, you are not everyone, I'll tell you straight
Our song is not finished, I write in rhyme
Together we can change everything just start
You want it, we are almost at the start
Look up. There is our success
Look down slippery cornice
Together we will take off, we will transform
Our dispute with you into a sensation
We will fall with you from heaven
Let's not wait for miracles anymore
We will conquer this whole world
Right now and here
We will fall with you from heaven
Let's not wait for miracles anymore
We will conquer this whole world
Right now and here
Right now and here
We will fall with you from heaven
Let's not wait for miracles anymore
We will conquer this whole world
Right now and here
Right now and here