The love story often becomes a complex and unpredictable romance, in which the devil puts the end. The birth of passion and the fall of angels of hope - in the plot video clip of Gor Armin for a new hit - "Somewhere not with me"
The video clip looks in one breath thanks to the talents of two masters - a singer and a director. In less than five minutes, a psychological drama unfolds in front of the audience, looped in time: the shadows of the past do not disappear anywhere, they are here, even if you think that you have recovered from the loss.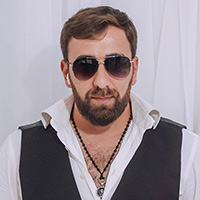 "I think that each of us will see something different in the plot of the video clip. There are many colors in love, it can exalt a person, or it can hurt. In this story, everything is very complicated, he loves her, she thinks that she can forget her past love with the loss of a loved one and start living anew, but not everything is so simple, there are wounds that do not heal even through the years.
I am sure that everyone in this life has lost someone very close and dear to their hearts and not necessarily as tragically as in the video, because this episode can be seen as a metaphor.
I would like to thank the music publishing house "Zvuk-M" for the opportunity to cooperate and wish you and me fruitful work.
I certainly wish the listeners love without loss, good and high-quality music, joy, smiles and, of course, follow the news on the Zvuk-M website, very soon a new premiere from me personally will not keep you waiting!
Interesting facts about the video clip
The video clip was filmed in Donetsk in the fall of 2020 by the famous screenwriter and director of Donbass Vladimir Agranovich. Behind him is a great experience of working with other artists, as well as the production of serials for Donetsk television.
The main characters, in addition to the performer himself, were played by the actors of the Donetsk State Academic Music and Drama Theater named after. MM. Brovuna: Yulia Shafir and Andrey Kochedykov.
No real facts were taken as the basis of the plot. All events and characters are fictitious and coincidences are random.
Lyrics of Gor Armin's song "Somewhere not with me"
Time is like water, remembering the riverbed
Pain forgive me my love art
The rain put out the fires and ran away from themselves
But how they loved with you, only the stars knew
Where planes fly, where trains run and run
How many twists and turns in fate, but I chose the wrong way
Chorus
Somewhere not with me, the game is over
The last battle is conceived and the water has flowed
Somewhere not with me, not the shore, not the bottom,
Let there be another, and I am your story
Sleep with him and remember me
Let time flow, years fly by
Someone is waiting for you, someone is hugging you
And there is no more resentment, I forgive you everything
But how I would love with you, only heaven knows
Where planes fly, where trains run and run
How many twists and turns in fate, but I chose the wrong way
Chorus
Somewhere not with me, the game is over
The last battle is conceived and the water has flowed
Somewhere not with me, not the shore, not the bottom,
Let there be another, and I am your story
Sleep with him and remember me