April 25 in Nalchik was a solo concert by Eldar Zhanikayev
At the State Musical Theater of the Kabardino-Balkarian Republic, with the support of the Ministry of Culture of the CBD, a solo concert of the popular singer, songwriter, laureate of international competitions - Eldar Zhanikayev was held with great success. On preparing for this event, we We wrote earlier.
The event was held under the hashtag "# i'm xnumx". Many famous singers, artists and creative groups of the Kabardino-Balkarian stage, including Eldar Atmurzayev, Kaysyn Kholamkhanov, Alim Appaev, Alim Teppeev, took part in it Alla Boychenko, Karina Kish, Azamat Tsavkilovas well as the famous ensembles "Balkaria", "Mound", "Pride of the Caucasus", "AssaPati" and others.
In addition to songs well known to the listeners, new songs were also sounded on this musical evening.
Eldar Zhanikayev included his following famous compositions in the program of his solo concert: "Land of Fathers", "Barama", "Adamda Business Atybyz", "Aythanymy Asht", "Tyushyurlyukse meni esinge", as well as new songs: "Keep waiting", Amanat "," You are beautiful "," Dancing Mountain Woman ".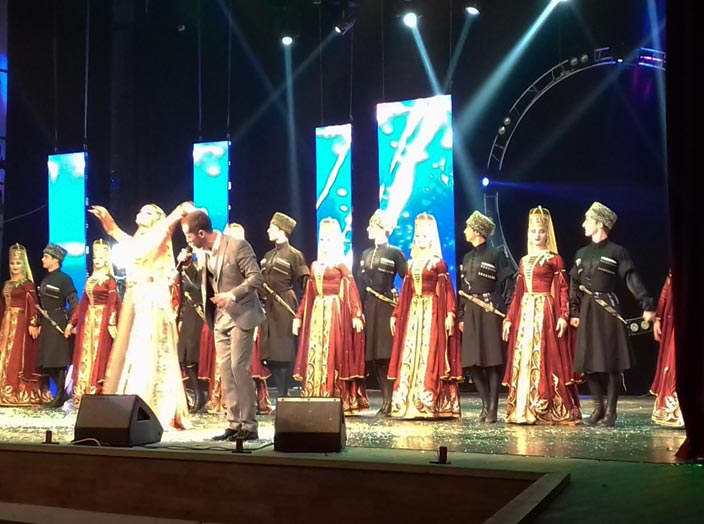 During the concert program, a touching, emotional song was performed by Eldar Zhanikayev, Azamat Tsavkilov and Karina Kish - "Who, if not us." This composition actually became the anthem of the Charity Fund for Helping Children with Cancer and Hematologic Diseases "Above the Rainbow" of the Kabardino-Balkarian Republic. Children from the children's art studio "Kapitoshki" attended the stage with the artists.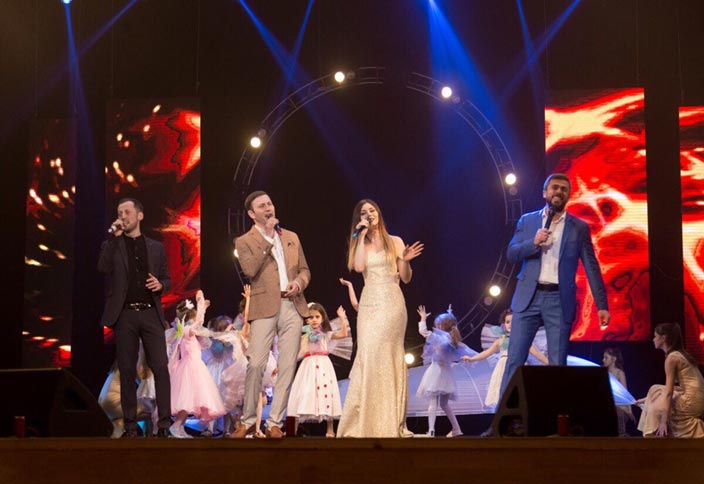 Then, in a duet with Alla Boychenko, Eldar performed a new track in his processing and arrangement of Alim Appaev to the lyrics of Rasul Gamzatov's "Dolalai".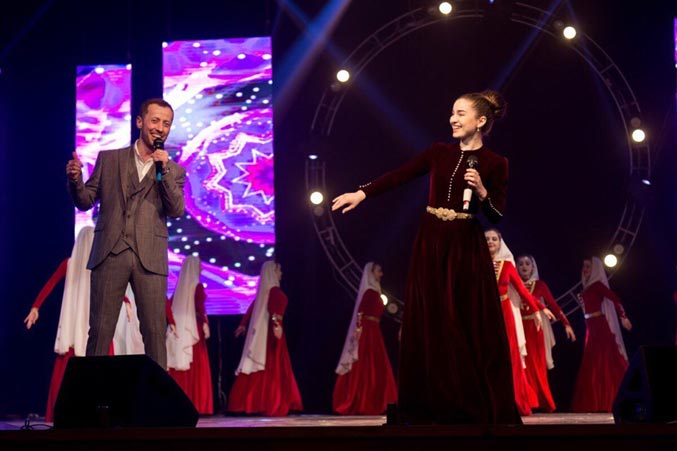 Then the compositions of invited artists were performed: Eldar Atmurzaev performed a song arranged by the young composer Akhmat Malkanduyev (author of the first Balkar symphony) - "Alanla", Kaysyn Kholamkhanov - a song to the music of Eldar Zhanikayev - "My Balkarochka", Alla Boychenko - "National Mix", Alim Appaev - "You Raise Me Up", Alim Teppeev - "Baskhan Tara, Kholam, Chegem, Byzyngy" (new song).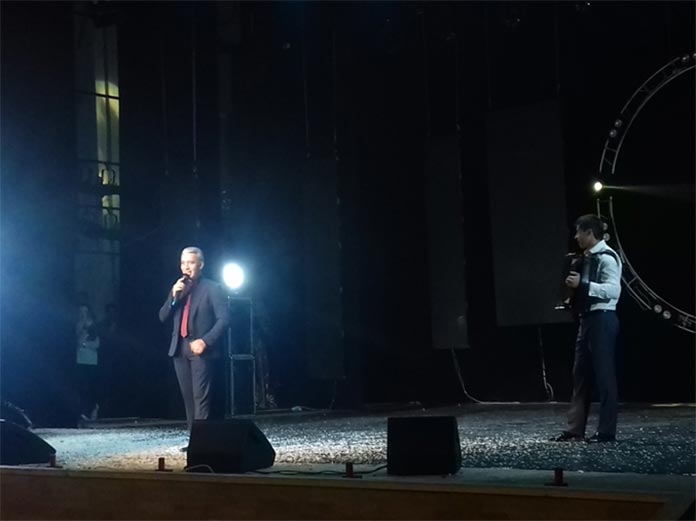 Separately, I would like to note the leaders: Akhmat Teppeev and Slavik Thamitlokov.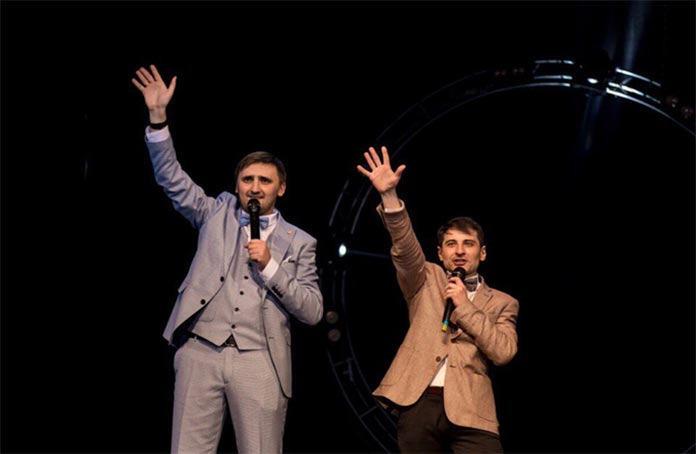 In addition to the sparkling humor and positive with which they lit the whole hall, the guys composed an author's song called "Zhanikayev Eldar" in the style of rap and dedicated it to Eldar. They performed it to the accompaniment of kahon with Alla Boychenko, the beatboxer and the listener invited from the audience.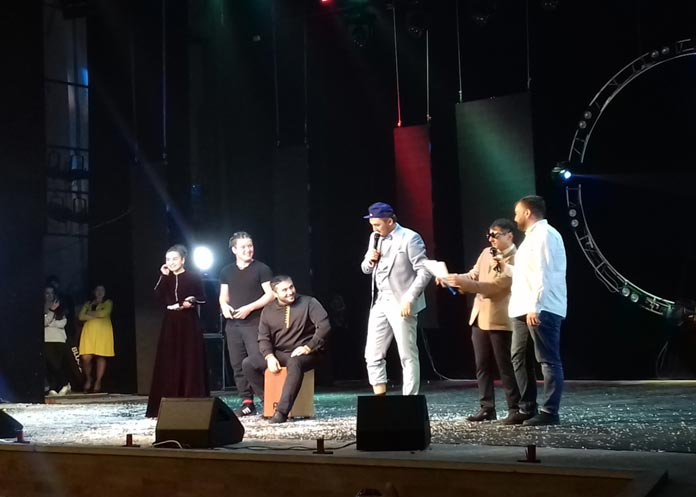 During the concert, Eldar expressed great gratitude to the professional musician Murat Malkarov, the ensemble of doulists Dmitry Kachlaev "Rhythms of the Caucasus". The singer also sincerely thanked for the incredibly decorated concert with his choreographic accompaniment: SPFAT "BALKARIA" (soloist Irena Zhanataeva), the ensemble "NASYP" and the school of lezginka ASSAPATI (Nalchik) led by Nyur Elekuev, soloists of the dance theater "Kalafedinu Min and Romistov Min" also the national dance studio of Irena Zhanatayeva "PRIDE OF THE CAUCASUS".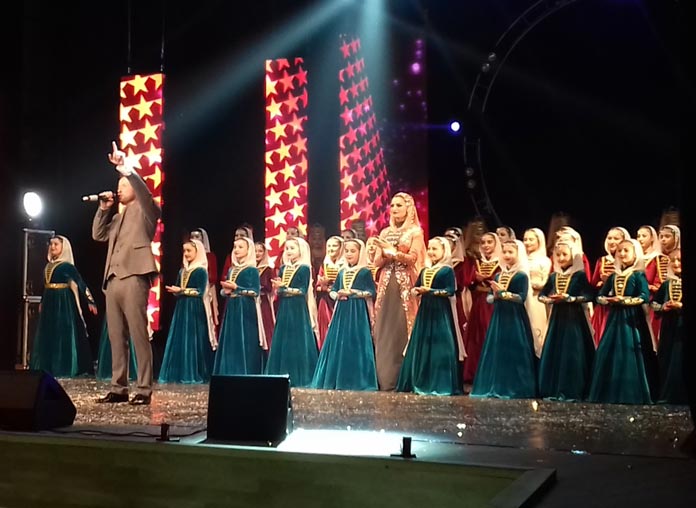 After the concert, Eldar gave an interview to our music publishing house.
- Eldar, we visited your recital and we really liked it! Tell me, is it true that it will become your traditional annual concert in Nalchik?
- I am very glad that you liked it. Yes, I plan to hold a concert in Nalchik annually. My viewers inspire me to do this. But, besides everything, the annual concert is a great motivation to work fruitfully in order to delight our viewers with something new and interesting each time. When you hear a lot of bright reviews from them, I really want the next time there were no less.
- Which of all your songs is your favorite?
- I find it difficult to answer this question. ... In every song, the author of which I am, various emotions are embedded. They are all different, but each is equally dear. Therefore, I can't single out one. Perhaps this comparison is not appropriate, but they are like children. And the parents of some children are larger, but they cannot love anyone less.
- During the concert, a touching song was sung - the hymn of the Charity Fund "Above the Rainbow": "Who, if not us." I would especially like to note it. Who became the author of this song? Do you cooperate with this fund?
- The author of the text of this song is Madina Kertieva, and Anzor Haup wrote the music and arrangement. It is under the motto "Who, if not us," the Mila Kachlaeva Foundation "Above the Rainbow" is working. You cannot say otherwise. She brought together many people from different fields of activity with the goal of helping sick children. Each of us helps with what we can. Often, help is simply to have fun with the children: congratulate them on the holiday, happy birthday, etc. For some children who do not leave the hospital 365 days a year, these emotions are sometimes more effective than drugs.
- Eldar, very soon a very important holiday will be held for our entire country - Victory Day in the Great Patriotic War. What does this holiday mean to you? Do you plan to spend anything on this day?
- Victory Day is a special holiday for me with a special atmosphere. Firstly, we would like that today's youth, today's children born and raised in peacetime, never experience the horror of war, and secondly, never forget those who fought, died, and survived in conditions when it seemed that it was already impossible to survive.
Am I preparing anything for this day? On May XNUMXth, many events are taking place in our republic, in which I regularly and with pleasure take part. I also have plans to release a song to the words of Kerim Otarov "Letter of a soldier", dedicated to the hero of the war.
- We wish you success in your work, strength and creative longevity! And may your guiding star of luck always illuminate your path! Continue to delight us with your wonderful talent and magnificent voice!
Photo gallery of the concert of Eldar Zhanikayev
April 25 in Nalchik was a solo concert by Eldar Zhanikayev