I want to touch the strings of the human soul with my creativity
As the classic said, "Take a good performer, give him a guitar, sit his loved one next to him and add a little life experience to all this - as a result, a song will be born, a song for the soul, the lyrics of a chanson"
Valery Milyutin @v_milyutin was born and raised in the Saratov region, has been singing since the age of ten. Participant of many regional concerts and musical events, a successful songwriter in the genre of "lyric chanson". His works are filled with magic and the magic of a sincere and somewhere innocent admiration for the world around him, love and tenderness. He is the author of the words and music of the song "Artist" by the famous Caucasian performer of chanson Goshi Grachevsky.
The freshness of Valery Milyutin's look at seemingly ordinary things and events unwittingly captivates the listener, forcing him to immerse himself in his own memories of feelings and experiences, to rethink love and parting. Today's premiere of the song "Warm Evening" is just such a piece - light and optional, but at the same time deep and soulful.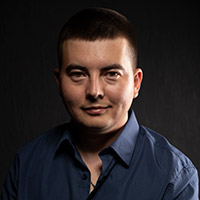 "At one time, and specifically in 2010, Alexander Gradskiy called the chanson" blatnyak "and" creepy crap, "says the performer. - Well, I want to note that Gradsky was apparently just unlucky with those works of the genre that he happened to listen to. On the other hand, since 2010, when he spoke this way, the chanson itself has grown greatly in a creative and qualitative sense, and in a number of areas it has finally gotten rid of the convict flair. This applies to lyric chanson to a very large extent.
The song "Warm Evening" is about feelings, about love, about a warm time - such when you can just walk next to your loved one and feel happiness. This is familiar to all of us. In a moment of inspiration, I thought about it and now present the result to your judgment. Let this track in my performance please the listeners, and I really hope that this song will be appreciated by many ... "
Lyrics of Valery Milyutin's song "Warm Evening"
The streets around the city are twinkling
And on them the common people walk
Someone goes on business
Who's under the arm with the darling there
A warm evening in the park is coming
Someone goes on business
Who's under the arm with the darling there
A warm evening in the park is coming
And I like to watch so much
To these lights
Your eyes burn like little bulbs
And in them love and joy of meeting
We will try to save
The warmth of the soul that this summer will give us
The stars shine brighter in the clouds
And your ice cream melts
Lanterns lit up
We seem to be alone
There is not enough space in the whole world
Lanterns lit up
We seem to be alone
There is not enough space in the whole world