Popular author and performer Vlad Kornilov @vladkornilov_official Presented today a soulful lyric composition called "Tatyana".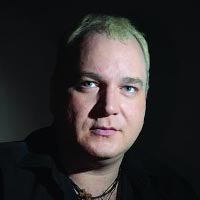 "This is my mother's name, so it evokes the most positive emotions in me," the singer comments, "I remember I was in a good mood, the melody was born by itself, followed by the words, and the result was a track from a series of" quick-born "(laughs). I often write songs like that. Although there are complex projects that have to be finalized. As for this single, everything went smoothly the first time: and I immediately realized that I did not want to give this composition to anyone, I myself would perform exactly as I see it, and my wife, who always gives only objective assessments of my work, appreciated the song. So, I would like to believe that the audience will also receive the novelty warmly, with their hearts they will feel everything that I put into it. "
The single "Tatyana" is already available on digital music venues and on our website.
The artist also said that he is currently working on a new album. It will be called "Amulet" and will include about 13 compositions. Among them are tracks that will be released in the near future, as well as today's novelty.
---
Vlad Kornilov is a famous Russian author and performer. He was born in Rostov-on-Don, in a family of musicians and from childhood knew that he would connect his life with creativity.
As a vocalist, Vlad made his debut at the age of 5, speaking at a concert dedicated to City Day, and at the age of 7, the boy was a soloist in the vocal and instrumental ensemble "Rainbow", touring the country and neighboring countries.
In 1988, Vlad graduated from a music school in piano, after which he entered the Rostov School of Arts at the pop-jazz department in the class of vocal and piano. It was not possible to finish training there - the young man had to move to Denmark. But it was there that his dream came true - at the concert of the Aria group, he met Valery Kipelov and, after returning to Russia, began working as a keyboard player and backing vocalist in a rock band. Having gained tremendous experience, the artist returned to his hometown, graduated from interrupted studies at the School, and after that he moved to the capital, where he studied at the Conservatory. Gnesins.
Now Vlad Kornilov performs a lot, writes and performs compositions in which he shares his thoughts and emotional experiences with the audience, and also collaborates with many famous artists.
In 2010, the singer presented his debut album "Clouds", which was recognized by Radio Chanson as "Album of the Year", and the artist himself - "Discovery of the Year". In 2011, Vlad Kornilov's second album, Ice and Fire, was released. And now, after several years of active touring, concert activity, the musician is preparing for the release of the third album - "Amulet", which will include both songs that the public has loved during this time and completely new compositions.
---
Lyrics by Vlad Kornilov "Tatyana"
I don't remember anything, I don't see anything
Your image stands before me
I don't know how to live if I don't hear
If I do not hear your voice
If I do not hear your voice
The sun in the sky - Tatiana
Air Sip - Tatyana
The world in your eyes - Tatyana
Angel flower - Tatiana
The sun in the sky - Tatiana
Air Sip - Tatyana
The world in your eyes - Tatyana
Angel flower - Tatiana
On a warm summer morning and on a frosty evening
All dreams and thoughts about you
Oh, wine in a glass I light candles
I am grateful to my fate
For you that you are in my destiny
The sun in the sky - Tatiana
Air Sip - Tatyana
The world in your eyes - Tatyana
Angel flower - Tatiana
The sun in the sky - Tatiana
Air Sip - Tatyana
The world in your eyes - Tatyana
Angel flower - Tatiana
The sun in the sky - Tatiana
Air Sip - Tatyana
The world in your eyes - Tatyana
Angel flower - Tatiana
Happiness and love - Tatyana
Light and kindness - Tatiana
I repeat again - Tatiana
Life and Beauty - Tatiana