Vladik Kornilov presented a new single - "Baby"
"We need to keep up with the times, it's time to change the musical direction!" - with these words of the wife for Vladik Kornilov, a new stage in creativity began. The singer not only changed his stage name, but also presented the single in an unusual popular genre.
The composition "Baby" was written for him by Tina Korn.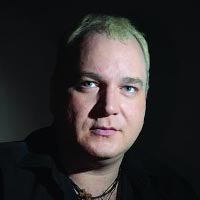 "We decided that there was enough chanson, we had to try something brighter, more interesting, modern, and this song was born," says the artist, "despite the fact that it turned out to be dynamic and playful, it has a deep meaning. It's very simple to say "goodbye", to do something bad, to insult, to humiliate. But then the realization will come that it is no longer possible to return the relationship.
Before saying goodbye, I want people to think carefully about the fact that your life, your love, your destiny, your universe is walking next to you. And without her, you will be alone. I feel sorry for those who go through breakups easily. Because they will never experience the sacred feeling of love. My wife was given to me by God. If the Almighty calls me and asks what I have understood and learned for this life, I will answer: "Thank you, I have known great love." When you cannot breathe, eat, drink, look at your loved one. You have so little time, you want to feel warmth, to look at your native features, you want to grab your beloved into your arms and run, run, run! Do you understand? When you feel that it is yours. And the worst thing is that 80 percent of people will never experience this, because they do not want to open their souls, they are simply not given. But I'm a happy person! And this song is like an edification. After all, it happens quickly and for life, and it happens for a long time, but not yours. Even if tomorrow I leave, I will leave with a feeling of great, holy love. Tina is my gift, and she gave me her sacred gift - our children.
So love each other! Don't rush to say goodbye! Take your time, look - perhaps your destiny is next to you ... ".
Lyrics of Vladik Kornilov's song "Baby"
In the moonlit cafe, a cup of espresso
Summarize your SMS
In this world it became so cramped for us
With you and without - it's not interesting
Or maybe forget everything
And break the mirrors
Oh no, no sense
Good bye my baby
Don't take everything close
Everything was too fast
Don't worry, go, go
Good bye my baby
Only a flash remains
Everything between us is too
You have everything ahead, go, go, go
Not to be together for long summers
Whiskey sip and cigarette
It can be seen that the planets have become wrong
Hundreds of calls and all unanswered
Or maybe forget everything
And break the mirrors
Oh no, no sense
Good bye my baby
Don't take everything close
Everything was too fast
Don't worry, go, go
Good bye my baby
Only a flash remains
Everything between us is too
You have everything ahead, go, go, go
Good bye, my baby ...
Good bye, my baby ...
Everything was too fast
Don't worry, go, go, go, go