The lyrics to the song were written by Arthur Kencheshaov, the music - by Batyr Guchetl.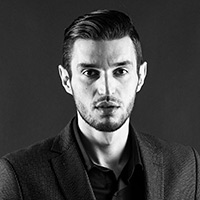 "In this composition, everything is like in life," comments Vladimir, "after all, any guy experienced a burning feeling of falling in love, forcing" in a dark park, unsociable to scratch out the name of his beloved with a knife on a bench ". The act, of course, is a hooligan, but because this image is found in songs so often that it is full of romanticism. After all, such a person is not constrained by a moral framework, and therefore he is capable of extraordinary, interesting deeds. So the story described here will seem familiar to many.
Well, there are new cool projects ahead. Thanks to our listeners for their support! "
Lyrics of the song of Vladimir Kovalchuk, Batyr Guchetl "Hooligan"
I'm on the night street
I walk again like I'm drunk
What have you done to me
How she captured the bully
Your tender eyes
Like fate's insidious signs
Friends are worried
I don't get into fights anymore
I break my hands to blood
Oh, you are tough love, love
Hooligan soul
Will take you with me forever
Wine does not intoxicate me
I'm not being cocky
I look out your window
Everything has changed so dramatically
Struck by your beauty
In a dark park unsociable
Scratched out with a knife
On the bench I am your name
I break my hands to blood
Oh, you are tough love, love
Hooligan soul
Will take you with me forever
I know, crowds of suitors
Looks at you
I'm ready to drive them away
Look at me you
Just call softly
Let spring breathe down our backs
And on your shoulders I am yours
I'll put on my leather jacket
I break my hands to blood
Oh, you are tough love, love
Hooligan soul
Will take you with me forever
I break my hands to blood
Oh, you are tough love, love
Hooligan soul
Will take you with me forever