Good news for fans of the work of the popular singer Olga Baskaeva - today the artist's first album, "Time", was released.
The track list included 8 author's compositions, including not only the latest news, but also songs that you haven't heard yet - "We won't", "Go away" and the track that gave the album its name - "Time".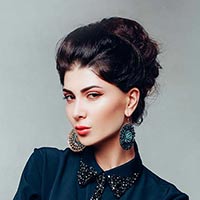 "The singles presented here were created during my formation in the work," Olga explains, "of the choice of music, style and content that fully characterize me. All these songs are different, and, I think, everyone will find himself in any of them, his own state of mind. Conceptually, this is an album that begins with naive love and ends with a deep, conscious one. So the tracks are written about the emotions I have experienced, the closest to me are songs about my already conscious love, struggle with myself - "Your Note", "We won't" and, of course, "Time".
You can get acquainted with the new product right now - Olga Baskaeva's album is available for listening on our website.
Listen and download Olga Baskaeva's album "Time"
Lyrics of Olga Baskaeva's album "Time"
Do not say
See you only a couple of minutes
No it's not a dream, I'm not sleeping
I pray, I pray, I love, oh
The trap together carelessly
I want it to be like this forever
My hand, in your hand, on top
Don't tell me love
My heart with your heart on you
The most dear, my only mine
My faith my love
Don't tell me love
My heart with your heart on you
The most dear, my only mine
My faith my love
Do not say
Do not say
Do not say
Happiness is still possible
You know you can do anything
I follow you like a wall
You are my peace
Don't tell me love
My heart with your heart on you
The most dear, my only mine
My faith my love
Don't tell me love
My heart with your heart on you
The most dear, my only mine
My faith my love
Do not say
Do not say
Do not say
Don't tell me love
My heart with your heart on you
The most dear, my only mine
My faith my love
Do not say
Do not say
Do not say
Your note
I'm not in a hurry for you
And maybe very, however
By the way - very
I miss you again
And losing my mind - jealous
Not jealous, jealous
How many days and nights
Tell me you are not whose
The elusive me
Your note
But I'm yours
All about you my dreams
My songs, my thoughts
Less words and dots
I don't love you very much
By the way - very
I remember something again
I forget, I forgive everything
I do not forgive - I forget
How many days and nights
Tell me you are not whose
The elusive me
Your note
But I'm yours
All about you my dreams
My songs, my thoughts
Yours yours yours
Yours, i'm yours, yours
Yours yours yours
Yours, i'm yours, yours
How many days and nights
Tell me you're nobody's
The elusive me
Your note
But I'm yours
All about you my dreams
My songs, my thoughts
Yours yours yours
Yours, i'm yours, yours
Yours yours yours
Yours, i'm yours, yours
Time
We are so naive and so stupid
On the brink - together not together
Bars, train stations, stations, halls
If you are with someone - do not call me anymore
And so on a new again, again and again
Not ready to lose
But how do you say wounds sew up everything
Time does not heal
Hold me tight
As if for the last time
I love and pray for us
Time does not heal
Run to meet me, but
As if for the last time
I love and pray for us
So many words, but not about love
Tearing lips inappropriate
They knew, were silent, waited, shouted
What's between us
Pride
And step back two to the meeting
I will not answer anything
Just do not rush to solve everything for us
Time does not heal
Hold me tight
As if for the last time
I love and pray for us
Time does not heal
Run to meet me - but
As if for the last time
I love and pray for us
You type in one evening
Say - see you
I will not answer, I will not answer
You type in one evening
You type in one evening
Last time
Time does not heal
Hold me tight
As if for the last time
I love and pray for us
Time does not heal
Run to meet me - but
As if for the last time
I love and pray for us
We will not
On a new hurts, we skidded
And everything went wrong and everything is wrong
And let go, and then what
At speed, in the oncoming traffic - again together
And erasing the boundaries between us all
With a new force pulls me to you
Me to you, me to you
No, let's not think about anything else
Just silently, just be closer
And embracing, I'll rest on your shoulder
You need it like air
No, let's not think about anything else
I know for sure you still love me
And reading through my eyes you see everything
I don't need another
Your motives are out of mind
I'll put out the fire easily in you
And stirring it up again
I'll turn back and time back
Between us feelings are beyond my control
Serving so delicious all your bullshit to the crowd
And again to me
And about me
No, let's not think about anything else
Just silently, just be closer
And embracing, I'll rest on your shoulder
You need it like air
No, let's not think about anything else
I know for sure you still love me
And reading through my eyes you see everything
I don't need another
Go away
The closest
We were so sincere
Why explain to me
And what are you united with
Sweet speeches
You are so careless
Meeting after meeting
Losing myself, letting you go
On the verge of nerves, but I'm not a bitch
I'll say it again - I don't cherish
And I smash to smithereens from longing
Come goodbye and leave
On the verge of nerves, but I'm not a bitch
I'll say it again - I don't cherish
And I smash to smithereens from longing
Come goodbye and leave
Bright sparks
Shone unthinkable
Burning to the ground
Take all my pain
Sea of ​​doubt
In this you are a genius
Has it become easier
And these eyes forget you
On the verge of nerves, but I'm not a bitch
I'll say it again - I don't cherish
And I smash to smithereens from longing
Come goodbye and leave
On the verge of nerves, but I'm not a bitch
I'll say it again - I don't cherish
And I smash to smithereens from longing
Goodbye
In love
You got one shot
I bite my lips in blood
It may addiction
Or maybe love
Indivisible forever we
Where you are, there I am
Were tied with threads
You are my whole for me
And I
And I, like I'm in love with you
You're crazy too
And I, like I'm in love
And I
And I, like I'm in love with you
You're crazy too
And I look like I'm in love
There is only one truth
We cannot be stopped
And running to us is pointless
To be us or not to be
Come hug me
Don't let go anymore
It is more than chemistry.
My purest buzz
And I
And I, like I'm in love with you
You're crazy too
And I, like I'm in love
And I
And I, like I'm in love with you
You're crazy too
And I look like I'm in love
And I, and I, like I'm in love with you
And I, and I, are you crazy too
And I, and I, like I'm in love with you
I and I
I and I
To be needed
I'm after you to the ends of the world
Well, where are you my dear, well, where are you
And you're not there, I miss
I breathe you, I dream with you
And from the earth all higher
You're the best you hear
I'm already yours, just yours
Let's not part
You just say stay with me
Cause all I need
To be necessary to you, to be necessary to you
Touch the wind to enjoy
In you dissolve without a trace
Cause all I need
To be necessary to you, to be necessary to you
My sunsets and sunrises
You are the oceans and planets
You're too close, restless
I'm already dependent on you
Let's not part
You just say stay with me
Cause all I need
To be necessary to you, to be necessary to you
Touch the wind to enjoy
In you dissolve without a trace
Cause all I need
To be necessary to you, to be necessary to you
Let's not part
You just say stay with me
Cause all I need
To be necessary to you, to be necessary to you
Touch the wind to enjoy
In you dissolve without a trace
Cause all I need
To be necessary to you, to be necessary to you
Cause all I need
To be necessary to you, to be necessary to you
Hello Hello
I pick up speed and fly to you
You don't know yet, don't know about me
I just feel very good with you
Just be yourself, you still be
Make a wish and watch
So bright is the road ahead
Hello Hello
Well, here I am unexpected
I am your love
Believe me, please
I am your destiny once and for all
Hello Hello
Well, here I am unexpected
I am your love
Believe me, I beg you
I am your destiny once and for all
Hello Hello
The most necessary
You are my man
And I know this
Not to be found forever
Everything is easy and simple.
Simple and easy
Suggested by the stars
My happiness
And burn unnecessary bridges
The best is yet to come
Hello Hello
Well, here I am unexpected
I am your love
Believe me, please
I am your destiny once and for all
Hello Hello
Well, here I am unexpected
I am your love
Believe me, I beg you
I am your destiny once and for all
Hello Hello
Hello Hello
Well, here I am unexpected
I am your love
Believe me, please
I am your destiny once and for all
Hello Hello
Well, here I am unexpected
I am your love
Believe me, I beg you
I am your destiny once and for all
Hello Hello