Bright summer shots of sea and mountain landscapes, a beautiful melodic song and, of course, a romantic love story - all this Amirina decided to join in a new clip.
The video "Guitar" was filmed in Sochi, and even some vacationers were able to take part in the filming ...
For three days Amirina, her husband and cameraman Pavel Bazhov were filming this project. According to the plot, the heroine of the singer accidentally meets a street musician with her eyes and recognizes in him her childhood love ...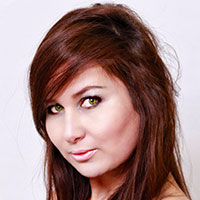 "I was the author of the script and director myself, although for the most part we just wanted to show a" beautiful picture ", without any special semantic load, so that the audience could watch and relax.
We were looking for a hero for the main male role for a long time. We needed a charismatic guy-guitarist, and it was Pavel Bazhov who suggested trying Eugene, a professional musician, who eventually merged very harmoniously into the plot image.
It was much easier to find girls for the role of my friends and children, who played the main characters in childhood. We offered vacationers to participate, and they gladly agreed, "says Amirina.
But there were also unplanned maneuvers in the process of shooting. For example, the participants wanted to shoot a panorama of the city and had to climb the mountain, and for the sake of beautiful shots on the yacht, the singer had to pose at the very bow of the ship ...
"We climbed a high mountain with great difficulty in order to shoot a beautiful landscape from a height," says the artist, "it took a lot of effort and time, but the result was worth it.
And the idea with the yacht came to my husband's mind while shooting on land, this was also not in the script.
Standing on the nose was indeed the most memorable and difficult moment. I was terribly afraid, but it was an indescribable feeling of open sea space and some incredible freedom! And the shots are amazing. I note that this is my husband's favorite song, and I am grateful to him for the fact that he was the initiator and creator of this beautiful picture.
I hope that the audience will plunge with us into this atmosphere of summer and love! "