Touch Me - a new lyrical composition performed by a charming singer Angelica Akhmedova @angelikaahmedova. According to her, the song was written Ruslana Sobieva three years ago, but right now it sounded the way the performer felt her when she first heard the demo version ...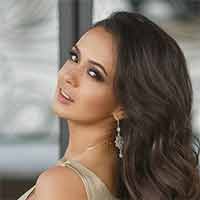 "It speaks of the love and passion of two hearts that have been looking for each other for a long time. I really liked this track right away, from the first words. But I just couldn't find the right arrangement. There were many versions, but through them it was not possible to convey the whole beauty of the single, the whole palette, the depth of feelings. And only this year the song "revealed". Apparently, right now it's time for her to be born!
I am glad that I can finally share this project with my listeners. I'm sure they will be able to feel exactly those emotions that I tried so hard to convey, "comments Angelica.
You can listen to the track "Touch me" on our website.
Listen and download Angelica Akhmedova's song "Touch Me"
Lyrics of Angelica Akhmedova "Touch me"
Heart burns with fire
Where is my peace and sleep. I know.
I hit the network
In the veins now love is melting
My life dawn
Give you colored dreams. Miracle
Paradise for my soul
I will be happy only with you
Touch me, close your eyes, say love
Take forever captive, pray
Do not let you cool my heart
Touch me, close your eyes, say love
Take forever captive, pray
Do not let you cool my heart
Lightning in the heart look
It hurts but beckons so sweet
Our love bonfire
Will always burn brightly
Will we be able to
Drink your happiness to the bottom
Tenderness over the edge
Here and now in your power
Touch me, close your eyes, say love
Take forever captive, pray
Do not let you cool my heart
Touch me, close your eyes, say love
Take forever captive, pray
Do not let you cool my heart
Touch me, close your eyes, say love
Take forever captive, pray
Do not let you cool my heart