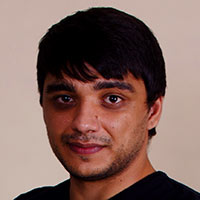 "There are many temperamental rebels among the girls, and I tried to convey this image. I like these girls, it's always difficult to find an approach to them, but that's why they are so charming. Powdered, inflated dolls cannot attract a real man, these are candy wrappers, they are thrown away. A man is a hunter - he needs a predator.
I wrote the text for this single in two days, although I bought the music a couple of months ago. Just waiting for the right moment to work with her. Sometimes songs require patience and are written by themselves when their time comes.
In my perception, a hooligan is not a vulgar, young fool with gum in her mouth and a cigarette in her hands, but a self-sufficient, impudent person who knows her worth and will not allow herself to play with herself. She has long hair gathered, she is dressed in a T-shirt, jeans, a cap on her head, sly eyes, and her smile is devilishly charming! " - comments EGO.
Where to present the picture even brighter than the author and the performer did? We invite you to listen and download the song "My hooligan" on our website.
---
We also offer fans of EGO to listen to his most popular songs according to the version of the Yandex.Music portal.