Shamil Kasheshov @shamil_kasheshov decided to diversify his repertoire and briefly move away from the lezginka genre. The popular performer promises in the near future many different novelties, and the first one presented today - the author's composition "I Will Make Happy".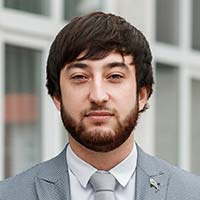 "On the day of its creation, I was in such a good mood that I decided to pour it out in a song. After all, I always want to share warm emotions. I wish you all pleasant listening and the most positive impressions! ", - the singer comments.
The single "Make it Happy" is already available on all major music services and on our website.
Lyrics of Shamil Kasheshov's song "I'll Make You Happy"
Your eyes beckoned to you
That I would not leave you
They asked you to hug
And I love you whispering
You cried during the hours of separation
If we don't meet you
but if there were together
It was a dream for us
But I'm with a playful smile
Dreamed of only one thing
How to make you happy
And you will forget about everything
But I'm with a playful smile
Dreamed of only one thing
How to make you happy
And you will forget about everything
With you, we soared
In us invented dreams
We loved each other very much
And love forever as well
You cried during the hours of separation
If we don't meet you
But if there were together
It was a dream for us
But I'm with a playful smile
Dreamed of only one thing
How to make you happy
And you will forget about everything
But I'm with a playful smile
Dreamed of only one thing
How to make you happy
And you will forget about everything
You cried during the hours of separation
If we don't meet you
But if there were together
It was a dream for us
But I'm with a playful smile
Dreamed of only one thing
How to make you happy
And you will forget about everything
But I'm with a playful smile
Dreamed of only one thing
How to make you happy
And you will forget about everything