"Forgive me" - a new author's composition by Zagir Satyrov
The dance music in the style of Lezghinka laid the memories of the hero of the song about past love. But, despite the sad words in the text, the single as a whole turned out to be quite dynamic.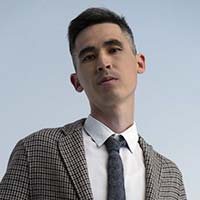 "I wrote this track about four years ago, impressed by the story of the breakup of my friend and his girlfriend. This was a difficult period of his life, which I witnessed. Over the years, over time, you look at everything differently, your views change, there is a re-awareness of the situation. Therefore, the text still stores the sadness experienced by him, but the melody and arrangement convey his current mood, they sound more optimistic, "Zagir explains.
Fans of the artist's creativity can evaluate the novelty right now - the song "Forgive me" is available for listening on the largest digital platforms and on our website.
Listen and download Zagir Satyrov's song "Forgive Me"
Lyrics of Zagir Satyrov's song "Forgive Me"
I miss you tonight
I think only about you,
Honey, I love you dear
For me you are only for me.
You love me so much I know
From your fate I disappear
There is a place for you in my heart
My love. Forgive me…
Every time I remember you
These days that we were alone
Where are you, looking for you, dear,
Where are you, my love.
You love me so much I know
From your fate I disappear
There is a place for you in my heart
My love. Forgive me…
Love you so much I know
From your fate I disappear
There is a place for you in my heart
My love. Forgive me…
Love you so much I know
From your fate I disappear
There is a place for you in my heart
My love. Forgive me…