New from EGO - the artist presented a remix of the track "Ay aman"
The original version of this song has many fans, it has over 20000000 views on YouTube, and viewers want to hear it at every concert. Therefore, EGO @ music.ego decided to make a remix that will sound brighter and richer when performed live.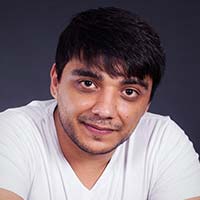 "I have added more life to Ai Aman. At the time of the release of the first version, I did not have the opportunity to collaborate with cool professional musicians. Now it has become possible. We completely replayed the music, added a saxophone, recorded a live guitar part, only the bass remained old. In general, I partially changed the motive of the verses, but did not touch the chorus. Now the song sounds cooler, better, easier, more fun. Hope everyone enjoys it. I will wait for you at the performances to perform it together! "- says the performer.
You can already listen to the "Ai Aman" remix on streaming sites and on our website. Also, do not forget to subscribe to the artist's social media pages. There are many announcements and premieres, and from 2022 the performer plans to release new songs.
Lyrics of EGO "Ai Aman (Remix)"
And her eyes are dark brown
So they ask for a date
Her lips are tenderly scarlet
Fooled me with charm
I'm with you to talov
And in love with you
My heart is pale
It's like a dream
Ay aman, ay aman
My lala hurricane
Ay aman, ay aman
I won't give you to anyone
Ay aman, ay aman
My lala hurricane
Ay aman, ay aman
Your forever bully
It's a top girl
She is no show
Press down, press down on the stop
Knocks me off my feet
I will take you to a place where there is no one
Far from crowded cities
A star fell from heaven and I
Made myself a wish
You are now with me here mine
And breathing in unison
Love is like summer rain
And you don't regret about him
Will come when you don't expect
Well come on lei
Ay aman, ay aman
My lala hurricane
Ay aman, ay aman
I won't give you to anyone
Ay aman, ay aman
My lala hurricane
Ay aman, ay aman
Your forever bully
Wears heels
Them clinks
Curls in waves
Claps eyes
Dimples on the cheeks
Cupid's bow
Help become
I'm a romantic