Popular performer Shamil Kasheshov @shamil_kasheshov introduced today a new composition. An incendiary song about a bewitching beauty is called "Eyelashes" and, according to the author, was born spontaneously as romantic feelings come into our lives.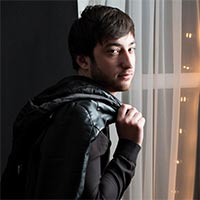 "Once again, while playing music, the words came to mind:" no one can compare with you, my queen, "the author and performer says," I began to pick it up and when the verses and chorus were ready, I decided to sell the song, but something stopped me ... And I do not regret it. The composition turned out to be dynamic, the image - bright. I want the audience to give pleasant emotions to the track. After all, any girl would like to feel like a queen, and any man would like to be next to such a beauty that is sung in the single. "
This song, among others, will be included in the concert program, which the artist is currently working on. And this means - there are still many new compositions ahead and, of course, a meeting with the audience at a recital.
Listen and download the song of Shamil Kasheshov - "Eyelashes"