Into your new composition Tina Korn @korntina put in the thought not only that the "autumn of life" should be experienced, waiting for the dark stripe to change to a light one, but also that even this time is worth enjoying ...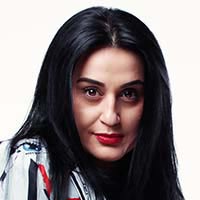 "The lines of this song are abstract, they can be perceived both figuratively and literally," the performer comments. "Listening to the words, it seems that this is just light poetry about autumn. But in fact, this is about what we experience in our life: rain is tears, wet asphalt, winds and all the elements that are associated with autumn are troubles. But all this together is the norm, and we are going through all the troubles. Always after autumn, a fabulous winter comes, then a new one is born - spring, followed by a colorful, warm summer. So it is in life - after each black stripe, there is a period of white. No need to despair, you just need to survive the fall.
To convey the mood of this time, especially rains, winds and lightning, I tried very hard on the melody. In general, I myself am an autumn one, and it seems to me that I wrote all the best at this time. When a creative person is good, he can create one or two works. And when the blues overtake, then hundreds are born! This is my opinion and oh, how sweet the taste of good after sadness!
So I am happy to present a new product. Let's go through the autumn together, and there are many more songs ahead. "
Listen to Tina Korn's single on digital music venues and on our website.
Lyrics of Tina Korn song "Let's Live through Autumn"
Somewhere a question, somewhere an answer
The golden spirit only hovers
Wet asphalt, winds play
Everything gradually dies down
We will survive the autumn, we will survive
And we will not ask for anything else
The city is quiet, will pass again
Autumn with firm steps
Clouds in the distance, they will come to us
The rain will fall over us again
We will survive the autumn, we will survive
And we will not ask for anything else
We will survive the autumn, we will survive
And we will not ask for anything else