The theme of love and betrayal is always exciting and relevant, and therefore the fans of the singer Kristina Yesayan, with whom the artist often gets in touch, was asked to write a new track, describing the experiences associated with the separation. Thus was born a song called "Take Off," which premiered today on major digital venues.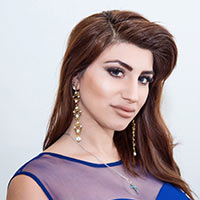 "It's easy for me to write such compositions, as I myself went through all this. Like others, this topic is familiar to me.
I believe that in no case should you forgive such liars and promiscuous people. After all, having betrayed once, they will betray again. It is necessary to draw conclusions from the first error and move on. We all stuffed bumps, we all stumbled, but in the end we stayed with those who really deserved it! "
We invite you to listen to the new single of Christina Yesayan "Take Off", which is already available on our website.
Listen and download Kristina Yesayan's song "Take Off"
Official Instagram of Christina Yesayan