Sabina Abdullaeva presented an incendiary, funny track called "The guy with a beard."
This is the first creative tandem of the singer with the author of words and music. Shamil Kasheshov. The arrangement for the composition was made by Rashid Serazhutinov.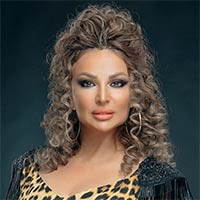 "A very popular image is described here, especially in our Caucasus," the artist comments, "I myself like it when a guy with a beard. It gives brutality and courage. And Shamil played this idea perfectly.
Today I am pleased to present a novelty to the audience and I want to wish everyone good and health in this difficult time for us. Stay at home, take care of yourself and your loved ones. I am sure that soon the world will sparkle with new colors, and you and I will once again light up at your events. With love, your Sabina Abdullaeva! "
You can listen to the single "Guy with a Beard" on all major music services and on our website.
Lyrics of Sabina Abdullaeva's "Guy with a Beard"
How many years of nights and days have I been waiting for you
Saying in life makes no sense without you
You burst into my life, giving peace
And tell me how to love you, my little ray of heart
And tell me how to love you, my little ray of heart
We will go to where peace reigns
You illuminated my soul - my hero
And remember, know one thing - you are only mine
I love you so much a guy with a beard
I love you so much a guy with a beard
I'll only tell you all my dreams
With your eyes you will light up and fulfill
I'm so glad that you have a sweet one with me
We will go our way together with you to the end
We will go our way together with you to the end
We will go to where peace reigns
You illuminated my soul - my hero
And remember, know one thing - you are only mine
I love you so much a guy with a beard
I love you so much a guy with a beard
We will go to where peace reigns
You illuminated my soul - my hero
And remember, know one thing - you are only mine
I love you so much a guy with a beard
I love you so much a guy with a beard
We will go to where peace reigns
You illuminated my soul - my hero
And remember, know one thing - you are only mine
I love you so much a guy with a beard
I love you so much a guy with a beard