Khatseron Alkhasov и Khurshida Ismailova presented the third joint composition, as well as a clip for it. This time the song is dedicated to the newlyweds and is called "Young"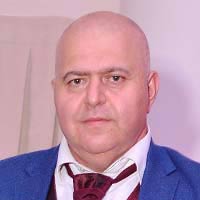 "I wrote it in 2019, when we were on tour in Israel," says Hatzeron, "it was made in an oriental style, with beautiful melismas and, of course, I put warmth and good wishes into my poems.
The video contains footage from the wedding of my son, who recently played a wedding. So in the person of Shapir and Indira, I would like to wish all lovers and young people happiness, health, love and good luck! May my author's songs bring joy to every home! "
Lyrics of Khaceron Alkhasov and Khurshida Ismailova's song "Young"
The two of you entered this hall on the wings of love
A warm light shines in your loving eyes
The wedding hour filled the ceremonial hall with a fairy tale
And around there is fun dancing and joyful laughter
This day is filled with joy and warmth
We can't find more friends than a couple
The two of you mesmerized with your beauty
I wish life's path together with love to go
Our bride and proud groom are the most beautiful
May fate give you the joy of love day after day
Let's raise a toast from friends and family in your honor
So that your house is always full of happiness and light