Author and performer Valery Milyutin presented a new single - "I'm drunk"
This is a song about a married man who confesses that he "did not walk." Unfulfilled promises, deceptions, calling his unreliability in marriage, difficulties in relationships - for all this he asks for forgiveness and promises to quit. But this is tomorrow, and today - "I'm sorry, I'm drunk" ...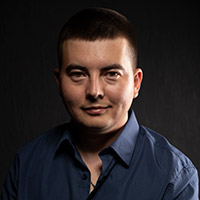 "I once again decided to write a composition about something interesting, lively, vital," says the artist, "and this idea appeared, which was embodied in poetry and music.
In this song, I wanted to say about everything: about love, about youth, about the mistakes that we foolishly make, and in the end this is life itself. And, in my opinion, the track accurately reflects the very attitude towards her, towards those around us, towards loved ones and, first of all, the attitude towards oneself.
The composition is full of different thoughts and conveys a state familiar to many. This, in its own way, should be pleasant to the listener, for me personally, this story sunk into my soul.
I hope that the audience will appreciate and understand the novelty, it is simple and cool. And I want to wish everyone a lot of positive moments and pleasant listening! "